Adams Speedline Fast Woods Review: Just as Innovative as the Drivers?
Adams Golf has made several models of its Adams Speedline Fast woods, just like it's made more than one version of the Adams Speedline Fast driver. This review covers two models of the clubs, similar to our review of Adams Speedline Fast drivers on another page of this site.
Adams Speedline Fast 10 Fairway Woods
The first of the Adams Speedline Fast woods I'll review here is the Adams Speedline Fast 10. This model offers "standard," "draw" and "tour" versions, so one of these woods would probably suit a golfer of just about any skill level.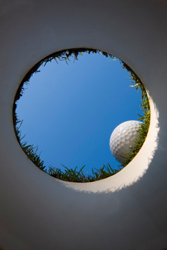 The soles of all three versions of the Adams Speedline Fast 10 woods are milled in a way that locates the head's center of gravity in the perfect position for the skill level of the player. In other words, each version - standard, draw and tour - has a center of gravity that's been optimized specifically for <strong>average, high-handicap or accomplished golfers</strong>, respectively.

The standard version has weight milled out of the heel and toe of the sole and a weight pad positioned in the back to promote a high, straight ball flight, while the draw version has weight removed from the toe and rear and a weight pad in the heel to promote a draw (or counteract a slice). The tour version, on the other hand, adds weight just behind the clubface to promote the <strong>lower, penetrating trajectory</strong> preferred by accomplished players.

I tested a 15-degree 3-wood (the standard version) with a 70-gram Aldila Wasabi graphite shaft in regular flex. A strong 3-wood (13 degrees) and a 5-wood (18 degrees) are also available in the standard version. The 3- and 5-woods available in the draw version use the same Wasabi shaft.

It's an attractive, versatile club that's easy to hit off the tee and from a variety of lies. Even <strong>hitting it out of the rough</strong> didn't give me a problem. It set up nicely behind the ball and produced a pretty consistent ball flight, even on mishits. It was very <strong>accurate</strong> but the feel and feedback were a bit subdued for my tastes. I also thought I'd get a bit more distance than I actually did. In fact, it kind of reminded me of hitting an Adams hybrid – accurate, easy to hit off tight lies in the fairway and easy to hit out of the rough, but not as long as I expected for Adams Speedline Fast woods. Basically, it's a solid but not spectacular fairway wood with a stock shaft that seems a little whippy to me. The club does do very well off the tee, though. Overall, I was pleased with these woods, but I'd like a bit more distance.

<strong>Adams Speedline Fast 12 Fairway Woods</strong>

Now, let's move on to a different model of the Adams Speedline Fast woods – the Adams Speedline Fast 12. The name itself mentions speed, and the club has the type of clean, streamlined appearance that makes it look like it would deliver speed. With its "slot within a slot," it represents the second generation of Adams Golf's Velocity Slot Technology ("VST") and it has a bigger sweet spot than its predecessor. It's also <strong>more forgiving</strong> on mishits.

These Adams Speedline Fast woods deliver on their promise to produce faster ball speeds and <strong>greater distance</strong>. When PGA Tour pro Kenny Perry tested an Adams Speedline Fast 12 3-wood for the first time, he called it "the hottest 3-wood I have ever hit." His 3-wood carry went from 254 yards with his usual club to 289 with the new Speedline Fast 12. He described that happy event by saying "I gained 35 yards, which definitely made me feel young again." I don't know about you, but I could use some of that – the increased distance and the "feeling young again."

Adams says the club's new "slot within a slot" VST technology creates a thinner, more flexible club head structure, which in turn allows the clubface to compress more readily than the face of a wood that doesn't have the slot system. The additional compression produces faster ball speeds and a higher launch angle than other woods, and those two characteristics translate into longer carries and more overall distance. These Adams Speedline Fast woods are hot.

Standard and draw models of the Adams Speedline Fast 12 fairway woods are available. The standard version comes in 13.5-, 15- and 17-degree lofts, while the draw version offers 15-, 17- and 20-degree lofts. A Graffaloy ProLaunch Blue 65 with "SpeedCoat Technology" is the stock shaft for both versions.

Adams Speedline Fast Woods: The Bottom Line

Adams Golf isn't as well-known as its "Big Three" competitors (PING, Callaway and TaylorMade), but it's getting there. Clubs like these Adams Speedline Fast woods stack up nicely against their competition.

From Adams Speedline Fast Woods to other golf club reviews.