Use Our Golf Driver Reviews When You Want a New "Big Stick"
Reading some good golf driver reviews is essential if you're looking for a new "big stick." Dozens of new drivers come out onto the market every year, and they all incorporate the "latest and greatest" technology and materials – according to their manufacturers, anyway. Most golfers feel like there are just too many new drivers - and too many technological innovations - to keep up with every year. That's why we post so many reviews here on checkyourgolf.com.
There's an old saying in golf, and I'm sure many of you have heard it: "You drive for show, but you putt for dough." The meaning of that saying is probably obvious to most of you, but I'll explain it so those of you who are beginning golfers can get my drift. Basically, it means drives that are towering long bombs are pretty, but your score actually depends on how well you putt.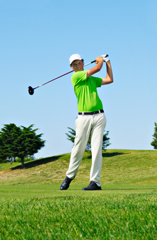 There's a lot of truth in that old saying, but there's no denying that owning a good driver that's suited to your particular swing is an important part of the game. After all, how else can you expect to reach the green of a long par 5 in regulation? Or even anything close to regulation?
Your driver may not be the most important club in your bag (personally, I believe that status belongs to your putter), but it does play a vital role in your game. Finding the right driver is crucial, and that's where our reviews can help.
Many of our reviews are (more or less) favorable, but that's not because we're biased. Instead, it's because so many high quality drivers are being produced nowadays.
Golf Driver Reviews from Big Sticks to Lesser-known Companies

Our reviews cover the "big sticks" being made by all the big names in the golf equipment industry – players like PING, Callaway, TaylorMade, Cleveland, Cobra and Nike. But we also cover the drivers being produced by mid-ranked and lesser-known companies, such as Adams and Tour Edge, for example. And all our reviews are completely honest and objective. If a driver knocks my socks off, I'll tell you that – along with what impresses me about the club. If I test a driver and it just plays "okay," I'll let you know what I think could be improved and what I think the club does well. And if a driver lets me down big-time, I'll tell you that too, along with why.
Our golf driver reviews cover clubs ranging from those that would be suitable for PGA Tour players to those that would be better for beginning golfers and high handicap players. But they also cover the great "in between" – the drivers that are best for those of us who are average golfers. For example, here's a list of some of the golf driver reviews we've posted on the pages of this site:
The Adams Speedline driver
The Bobby Jones Superlight driver (Workshop Edition)
The Callaway Big Bertha 460 driver
The Callaway Diablo Octane driver
The Callaway FT Tour driver
The Callaway FT-iZ driver
The Callaway RAZR Hawk driver
The Cleveland HiBore driver
The Cleveland TL 310 driver
The Cleveland XL270 driver
The Cobra Long Tom driver
The Cobra S2 driver
The Cobra S3 driver
The Cobra ZL driver
The Mizuno JPX-800 driver
The Nike VR Pro driver
The PING Faith driver (specifically for ladies)
The PING G20 driver
The PING G25 driver
The PING i15 driver
The PING i25 driver

The PING K15 driver
The TaylorMade Burner driver
The TaylorMade R7 driver
The Titleist 910 D2 driver
The Tour Edge Exotics XCG-4 driver
The Wilson DXi driver
I could easily go on, because we have more than just these golf driver reviews on our site. And, we're adding new golf driver reviews on an ongoing basis.
If you're thinking about buying a new driver, we encourage you to read through some of our golf driver reviews. They're honest and straightforward because we're not trying to sell you anything. We just want you to have the type of objective information that can help you make a smart decision.
It's easy to find the specific golf driver reviews you'd like to read – just use the links we provide on every page of this site. And because we post new golf equipment reviews almost every day, we strongly encourage you to bookmark our site. We keep up to date with the new clubs and other golf equipment coming out, so you don't have to. All you need to do is check back from time to time to see which new reviews have been posted.
The number of drivers coming onto the market every year can be overwhelming. Instead of pulling your hair out trying to keep up, why not rely on our honest, objective reviews? They'll do the job for you.
From golf driver reviews to other golf equipment reviews.