TaylorMade Irons – Terrific Then and Now
Over the years, there have been so many TaylorMade irons, so many different models of clubs that it would be almost impossible for me to list them all here.  Several of their names resonate with golfers, especially those who have a history of playing them.  TaylorMade Burner irons, woods and drivers are just one example, but probably the best one of all.  Callaway's Big Bertha line of clubs might be the only other make and model that has been equally beloved by amateur golfers. 
TaylorMade Irons - Perfect For Your Game?

During the past 20-30 years, TaylorMade Golf has consistently produced some of the best iron sets around.  Some of these models have been designed to be played by top-level touring professionals or elite amateur golfers.  Others have been intended for better to average weekend players, or for people who are struggling or just learning to play.  Practically speaking, the company's consistent history of excellence means that whatever your skill level as a golfer, more than one set of TaylorMade irons has been designed to be perfect for your game.  Not only that, but no one has ever questioned the quality or performance of these irons.

TaylorMade Burner irons (multiple specific models have borne that name since the company starting making golf clubs) have always been meant to be easy to hit and help golfers get more enjoyment out of the game.  Because they're so forgiving, Burners are perfect for almost any amateur, from golfers with fairly low handicaps all the way through to struggling beginners.  Like Callaway's Big Bertha irons, TaylorMade Burner irons have a warm home in many golfers' hearts.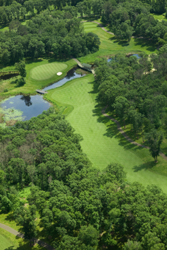 TaylorMade R9 irons (as well as the other models in the "R" series) are a slightly different animal.  I tested a set of these terrific irons and then posted a review on our site so you could read about them for yourself.  In short, though, they're a little more demanding than TaylorMade Burner irons and they're intended to be played by low- to mid-handicap golfers.  In other words, they might be "too much club" if your handicap is north of 25 or so, but they might be perfect if your handicap's lower than 20.

The story's similar when you're talking about TaylorMade CB irons.  Like the R9 irons, they're made to be played by better golfers.  In fact, the "official" name of these TaylorMade irons is actually TaylorMade Tour Preferred CB irons.  The name alone says a lot about the skill level they require.  I went ahead and tested a set even though I sure don't think of myself as being a "better player" (my handicap's no better than 10).  I've posted a review so you could learn a little more about them. 

Same thing with TaylorMade MC irons – they're also made for better golfers and their "official" name is TaylorMade Tour Preferred MC irons.  Both these sets of irons – the Tour Preferred CB and the Tour Preferred MC irons – are regarded as "players clubs."  Once again, I tested them and then posted my review on our site (just click the links in the text above). 

Those are just a few of the models that I've seen over the years.  Other popular sets include the RAC, R5s, R7s, R11s, RocketBallz (RBZ), RocketBallz Stage 2 and RocketBladez, among others.

TaylorMade is one of golf's "big three" American club manufacturers, the other two being Callaway and PING.  It's lofty company, but no matter which specific model you're talking about, TaylorMade have always lived up to a high standard of excellence. 

From its inception, the company has had an innovative mindset.  (Is having a "mindset" possible for a company?  Maybe "corporate orientation" would be a better way to say it).  Either way, its progressive, innovative approach allows TaylorMade and its designers (some of whom can only be described as creative geniuses) to think out of the box.  As a result, several groundbreaking developments that are still in use today were introduced as features in irons, woods and drivers.  This company is a leader, not a follower.  New technology, using space-age materials and built on principles of physics, is continuously being rolled out to create each successive model of TaylorMade irons and other types of clubs.

I've always loved them, but they're not necessarily conventional in every way.  This company's irons have been prized by millions of amateur golfers and plenty of professionals over the years.  You could do a lot worse if you put a set in your bag.  Take a peek at some of our reviews of TaylorMade irons and see for yourself.
From TaylorMade Irons to the other golf club reviews.