Golf Club Reviews
Need golf club reviews? If you want to play golf more than once or twice a year, you'll need to buy your own set of golf clubs. Although purchasing them can be expensive, renting them at the pro shop whenever you want to play is even worse. By the time you rent a set of golf clubs six or seven times, you could have bought your own equipment. (Note: Be sure to check out our article on cheap golf club sets, Callaway clone golf clubs and game improvement irons.)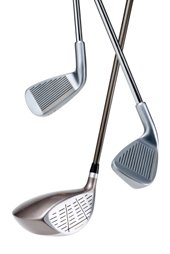 The trick is to find the golf clubs that are right for you and your game - your body type, your swing and your budget. And that's where our unparalleled golf club reviews can help you out. We'll give you all the reviews, tips and other information you'll need to help you choose the golf clubs that are suitable for you and your game.
There are many types of golf clubs - drivers, fairway woods, hybrids, irons, wedges and, of course, putters. But no matter which type of clubs you're looking for, you'll find great reviews here on our site. Our honest, straightforward golf club reviews can be a valuable resource while you're making your choice, so we encourage you to bookmark this site.
Here are some direct links to specific golf club reviews.
We also make sure we review golf clubs that would be suitable for any type of budget. For example, we review cheap golf club sets and have tips on buying last year's golf clubs to help those with limited funds, but we also do Callaway golf club reviews for golfers with more substantial budgets. We take care of both genders, too. In addition to reviewing numerous men's golf clubs, we also do ladies golf club reviews.
So, no matter what your experience or skill level is, whether you're a man or a woman, and whether you have a sizeable budget or it's tighter than you'd like, you'll find interesting, helpful golf club reviews on this site.
Choosing the best golf clubs for you and your situation can be a little like negotiating a minefield, especially if you're a beginning golfer. There are so many choices ... and not much truly useful information you can rely on. Well, that's why we're here. To give you the type of honest, useful, solid information you need to successfully navigate your way through the club-buying minefield.
For example, if you're just taking up this glorious game, you might not realize that you're entitled to carry a total of 14 clubs in your golf bag. Most golfers use a driver, one or two fairway woods, some irons, a pitching wedge, a sand wedge and a putter. That might sound like an awful lot of golf clubs to buy, especially when you're starting out from scratch. But each one of those types of clubs serves a different purpose, and eventually you'll want them all. This is another reason we encourage you to bookmark our site - for future reference.
Just because you can use 14 clubs doesn't mean you need to buy all 14 of them at the same time. In fact, if you're a true beginner, some clubs just won't be appropriate for you and your game. For example, a driver is probably the last club a beginner should buy. Drivers are the longest and largest of all golf clubs, and although they're able to hit the ball farther than any other type of club, they're also the hardest to use properly. Many beginning golfers don't even consider buying a driver until they've been playing for at least a year or two.
In contrast, a putter should be one of the very first clubs any beginner buys. You can't putt without a putter, and putting represents about half of every golfer's total score during a game. That makes finding a good putter one of the most essential tasks for any golfer. We'll help you with our reviews.
In addition to providing helpful general information of this type, we also discuss a number of specific topics. For example, we review and provide other information on these and many more matters of interest to golfers:
Ladies golf club sets
Nickent golf clubs
Prince golf clubs
Graphite golf clubs (the shafts, that is)
Regripping golf clubs
Golf club training aid reviews
Simply click on the links we provide to read about these and other specific topics. Once again, we encourage you to bookmark this site, because we'll be updating it regularly with new golf club reviews, reviews of other golf equipment and other information we think can help you.
To the top of "golf club reviews"