Find the Right GPS System with our Golf GPS Reviews
How can our golf GPS reviews help you? You might be someone who almost always plays on the same course (like me) or you might play a number of different courses throughout the year, some of which you're not all that familiar with. You might even bring your clubs along with you on your vacations and play courses you've never seen before. But, no matter which of these descriptions fits you, a good golf GPS is a valuable piece of golf equipment that can definitely help shave strokes off your game.
Golf GPS systems that we review include:
Golf GPS systems furnish some very important information which can give you some distinct advantages while you're out on the course. Using a golf GPS system is similar to having your own personal caddy, but this caddy has a yardage book that provides carefully measured and marked distances to various locations on that hole - no matter where your ball is lying. Although they're primarily used to tell you the yardage you have left to the hole (whether you're in the rough, the woods, on the tee or standing right next to one of the yardage markers on the fairway), most golf GPS systems can also tell you how far you'll need to hit the ball to carry a pond, avoid a fairway or greenside bunker, reach a dogleg and so on.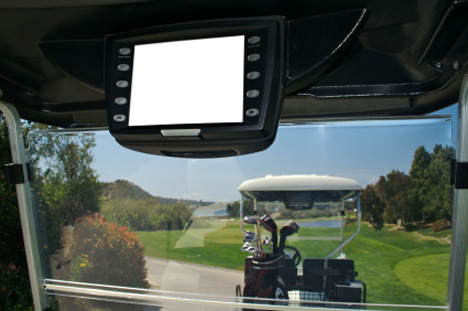 ---
There's no question that the right GPS system can help any golfer's game. A GPS can even help someone like me, who almost always plays on the same course. I'm pretty familiar with the yardages to the holes from different locations on the fairway but, unfortunately, I'm not always in the fairway. How do I know how much club to take when I'm 30 yards wide left? I know being off-line will add SOME distance to my target, but how much? In my view, that's where a GPS can help someone who plays on the same course all the time. And a GPS unit would benefit someone playing an unfamiliar course even more. Simply put, the right golf GPS system can help you select the right club to use on each and every shot you take because it removes all the guesswork about your yardage. When I got mine a year or so ago, my handicap dropped by four strokes within a month, and the reason was my newfound knowledge regarding the exact distances I needed to hit the ball. A golf GPS system is the best tool ever devised for helping you select the right club for the shot you're facing.
Okay, so now you're convinced that a golf GPS device can help your game. There are a lot of them out there on the market, and understanding the differences between them is important. That's where our golf GPS reviews can help you. There are some significant differences between different GPS systems, and our golf GPS reviews point out a number of different aspects of these handy devices in order to help you locate the right one for you and your budget. If you're like the vast majority of golfers who get a golf GPS system, you'll shave strokes off your scores.
Some golf GPS systems are pretty inexpensive, while others carry price tags that can be substantial. And, in addition to these variations in price, different GPS devices also have different capabilities, so our golf GPS reviews should come in handy while you're making your decision. We can help you determine which GPS features are important to your game and which are less so, and because some GPS systems require an annual fee (while others don't), we can help you understand the overall cost that's involved. Once again, our golf GPS reviews are intended to help you make the right decision for your particular situation, including your budget.
We review several golf GPS systems and discuss several topics relating to golf GPS devices here on our site. You can follow the links we've provided on this page to find information on the particular topics and GPS systems you're looking for. In addition to our golf GPS reviews on specific units, some (not all) of the golf GPS topics we address include the following:
Best golf GPS
Golf course GPS
Golf GPS devices
Golf GPS units
Golf GPS balls
GPS golf systems
PDA golf GPS
A golf GPS system can make a world of difference in your game. We hope our golf GPS reviews help you make the right choice.