Srixon Golf Balls Are On the Rise
Srixon golf balls have never seemed to garner the widespread respect that has traditionally been given to balls made by Titleist, Callaway and other top ball manufacturers.
Now, however, things are changing. All of a sudden it seems like they are on the rise. A large number of tour professionals, including established stars like Graeme McDowell, Boo Weekley, Robert Allenby, Steve Flesch, Vijay Singh, Ben Crenshaw and Karrie Webb are now flocking to Srixon golf balls. And "young guns" like Keegan Bradley are joining them.
I always figure what's good enough for the pros is good enough for me (too good, probably), but I started getting curious about why Srixon golf balls are becoming so popular with golf pros. Then, I started noticing that several of my friends were also playing them.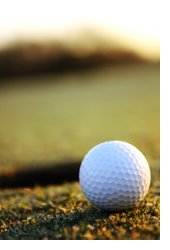 So, being a curious soul as well as a diligent golf equipment reviewer, I decided to find out more about these golf balls. Here's what I found out:
Let's look at the "Tour" versions first.
Srixon's "Tour" balls include the Z-Star and the Z-Star XV. Both balls are available in your choice of "Pure White" or "Tour Yellow." The multilayered Z-Star uses an extremely soft urethane cover for distance as well as short-game spin, control and feel. Srixon claims the ball's large "Energetic Gradient Growth TM" core produces a penetrating ball flight that will be effective even in windy conditions. The ball is designed to perform best for golfers with driver swing speeds of 80 to 105 mph. That means I'm in, because I'm around 90 mph! Okay, I gotta try the Z-Star - make mine white, please!
Srixon's other "Tour" ball is the Z-Star XV. Slightly firmer and providing a bit less spin and feel, my faster-swinging friends tell me the Z-Star XV produces a good combination of spin and distance. This distance-oriented ball is designed to reduce spin off the driver in order to facilitate longer drives. And like its sibling the Z-Star, it also uses an Energetic Gradient Growth core. Srixon says this ball performs best for golfers who swing their drivers faster than 95 mph. Uh-oh. My 90 mph swing means I'm out. I'll need to talk to some of my golf buddies in order to give you any detailed information about these particular Srixon golf balls. Naturally, Tour balls aren't the only kind of Srixon golf balls being made. In fact, Srixon makes two other general categories of balls - what it calls premium distance balls, and balls for all abilities.
Premium distance Srixon golf balls.
The Srixon TriSpeed and TriSpeed Tour balls fall under this umbrella. The Trispeed is a three-piece distance ball targeted to golfers of all skill levels. It, too, features the company's resilient Energetic Gradient Growth core, which promotes a high launch angle and low spin off the driver for long shots. While being designed to maximize distance, this ball does not sacrifice feel because of its low compression core. If your launch angle is typically low and you hit high spin-rate drives, you could hit your balls longer and more accurately with this ball.
The TriSpeed Tour is also a three-piece distance ball designed for all types of golfers, but especially low- to mid-handicappers with swing speeds less than 100 mph. It is a bit more tilted toward spin and feel than the TriSpeed, but this ball is still capable of lengthy hits because of its Energetic Gradient Growth mid-compression core. A "Tour Yellow" version is also available.
"All-Ability" Srixon golf balls.
Srixon also makes several "All-Ability" golf balls - the AD333, the Soft Feel, the Soft Feel Lady and the Q-Star. The AD333 has a low-compression core and a piercing flight that can help golfers with average swing speeds carry and roll the ball farther, but it also has a soft feel.
As you would suspect from its name, the Soft Feel features amazingly soft feel, but it also reduces spin off the driver and promotes high ball speeds to help golfers with slow swing speeds attain more distance. And naturally enough, the Soft Feel Lady is designed specifically for women, especially those with slow to moderate swing speeds. It promotes a higher ball flight and also provides a soft feel. The Q-Star, available in Pure White or Tour Yellow, is a two-piece ball that Srixon developed to combine distance off the tee with soft feel and greenside spin and control. Its performance resembles that of the Z-Star.
From "Srixon Golf Balls" to golf ball reviews.