Adams Speedline LP Fairway Woods Review – Will They Help You Hit Your Woods Better?
Unfortunately, many higher-handicap golfers struggle with their woods. Adams Speedline LP fairway woods have been designed to correct that particular problem.
Among other things, these woods feature a low profile head and what Adams Golf calls "Velocity Slot Technology." The company believes the shallow, low-profile club head design promotes a higher launch angle and makes the clubs easier to hit off the deck.

The Velocity Slot Technology built into these fairway woods is visible on the crown and sole. It's intended to increase the clubs' Coefficient of Restitution ("spring-like effect" or "trampoline effect") and thereby promote faster ball speeds, higher trajectories and more distance. Adams claims its Velocity Slot Technology represents a breakthrough design that also makes the clubs more forgiving on mishits.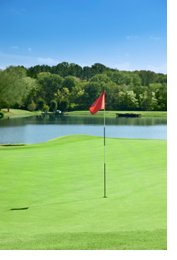 So, according to the manufacturer, Adams Speedline LP fairway woods are longer (on mishits as well as flush shots), produce higher ball flights, are more forgiving on mishits, and in general are easier to hit than many other woods. That all sounds good to me. But is it true? Can they live up to these claims?
Naturally, I had to find out.
Standard and draw-biased versions of the Adams Speedline LP fairway woods are available in a variety of lofts and shaft flexes – from a strong-3 to a 9-wood in the standard version; the draw version is available in 3-, 5-, and 7-woods. I settled on the standard version because my little draw doesn't need any "help," but if you have a tendency to slice the ball, you might find the draw version more appealing. I tested a 15-degree 3-wood and a 20-degree 7-wood, both of which were fitted with a regular flex, 55-gram Matrix RADIX stock graphite shaft.
Both woods have an appealing look and set up behind the ball nicely. Other than the presence of the Velocity Slot, the heads of these fairway woods look traditional at address. I've always liked low-profile woods and the "Velocity Slot" on the crown is very noticeable but somehow confidence-inspiring. I've heard some people say it's distracting, but I took to the look right away.
The purpose of the Velocity Slot is to increase the flexing of the face at impact (a more flexible face will impart more energy to the ball, causing it to fly farther). To me, its presence makes the club look like it's about to hammer the ball. The slot also makes the club head more forgiving across the width of the face. My toe and heel mishits flew almost as far and almost as straight as the shots I hit purely. I'm not sure if it's actually true (or not), but I felt like the sweet spot was huge. You'll know what I mean if you've ever hit a "hot" wood or driver – the ball just seems to fly off the face no matter where impact occurs.
Adams Golf now makes ultra-light drivers (we review an example - the Adams Speedline 9088 UL driver - on another page of this site). Adams Speedline LP fairway woods would complement those drivers nicely because they're lightweight, too. Their reduced weight helped me swing faster and hit the ball longer. It's important to keep your swing controlled, though – a tempo that's too quick can be fatal with any lightweight club.
Both clubs gave me a high-launching ball (the 7-wood more so than the 3-wood, of course), but the ball never ballooned. Time after time, I got a nice high ball flight. Long, too. I even got pretty good distance when I chunked and hit the ball fat. I really started liking these clubs after that, because I seem to do that at least once or twice every round. When I hit the ball flush, the sound and feel at impact were solid and satisfying. I always knew when I'd hit the ball well - and when I didn't.
Adams Speedline LP Fairway Woods Review: The Bottom Line

There's not much to dislike about Adams Speedline LP fairway woods. They're easy to swing, easy to hit, deliver a nice high ball trajectory, offer great forgiveness with a sweet spot that seems like it covers the entire club face, and they're long. Other than the Velocity Slot, they don't have much in the way of visible technology – not like you see in fairway woods with moveable weights and adjustable lie and loft angles. They just work. In fact, when I tested them they met or surpassed all of Adams Golf's claims. If you're looking for new woods, you might want to consider taking some Adams Speedline LP fairway woods out for a spin. I suspect you'll be pleasantly surprised by how they perform – especially if you struggle with your woods.
From Adams Speedline LP Fairway Woods to other golf club reviews.