Callaway Big Bertha 460 Driver Review
So what about the Callaway Big Bertha 460 Driver? Most golfers have at least heard of Callaway Golf, even if they don't own any of the company's clubs. Callaway enjoys a worldwide reputation for producing top quality golf clubs, balls and accessories. Although their clubs cost more than the equipment made by many other manufacturers, you almost always get good value because of their superb quality and the cutting edge technology they use.
Most of Callaway's drivers, including the Callaway Big Bertha 460, use a combination of three tried and true core technologies developed to increase distance, forgiveness, feel and control. Callaway's patented, world-renowned S2H2 design (which stands for Short, Straight, Hollow, Hosel) revolves around a hosel that's shorter than normal. S2H2 allows Callaway's club designers to reposition some of the weight of the hosel to more beneficial places lower in the club head and around the perimeter.
Callaway's second core technology, called Tru-Bore, improves a player's feel and control by hollowing out the hosel so that the tip of the shaft extends all the way through the club head and into its sole. The shaft tip is visible on the club head's sole, which makes this technology highly recognizable.
The third core technological design element most Callaway drivers share (including the Callaway Big Bertha 460 driver) is the company's VFT technology. VFT, or Variable Face Thickness, lets club designers vary the thickness of the faces of Callaway's drivers, woods and irons in order to enhance their performance. For example, the face of this driver is extremely thin around the perimeter but thicker in the center. This technology is intended to maximize ball speed and perimeter weighting to help players achieve greater distance and enjoy increased forgiveness on off-center hits.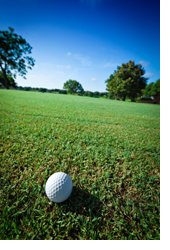 All this technology means that although the Callaway Big Bertha 460 driver is several years old (and only available directly through Callaway as a pre-owned club) it still offers some of the most up-to-date club dynamics available. Exceptionally forgiving on mishits, the Callaway Big Bertha 460 driver is still found in many players' bags.
As its name implies, the Callaway Big Bertha 460 driver has a 460cc club head, the maximum size currently allowed by the USGA and the R & A. Its titanium club head features a shape which promotes long, straight shots by maximizing the size of the clubface and "stretching" and flattening the crown back away from the club's sizeable sweet spot. The overall effect lowers and moves the club head's center of gravity down and to the rear in order to permit higher launch angles and longer carries by mid- to high-handicap golfers. The club head also has a wider shape which furnishes a high Moment of Inertia (MOI), enhancing stability, increasing forgiveness and promoting longer, straighter drives on off-center hits. Matched with a senior or ladies shaft (yes, the Callaway Big Bertha 460 driver is also available as a ladies club), the club can become a wonderful weapon in the hands of average players with slower swing speeds of 85 mph or less, helping them hit the ball higher and longer.
The face angles of the club's available lofts (9 degrees, 10 degrees, 11 degrees and a 13-degree "High Trajectory" or "HT" model) are closed by 1 degree in order to discourage slices. The club's stock graphite shaft is manufactured by Aldila and available in stiff, regular, light (senior) and ladies flexes. Although high-level competitive amateur golfers probably wouldn't select the HT, I feel compelled to warn you that the USGA has deemed the 13-degree HT Callaway Big Bertha 460 driver a nonconforming club for a spring-like effect that exceeds the maximum levels that governing body allows. That means a player using the HT model in a USGA-sanctioned event (or any event that is governed by USGA rules, which is essentially every tournament held in the United States, including rounds played during golf leagues) will be disqualified.
Although it is a few years old and its production has now been discontinued, this driver is still available for a discounted price in many online shops. A number of websites also offer used Big Bertha 460s for sale.
The Bottom Line: the Callaway Big Bertha 460 driver has been one of the best-performing, most popular drivers in the company's history. Its large sweet spot, accuracy and feel have made it a favorite with many mid- to high-handicap golfers in the last several years.
From Callaway Big Bertha 460 Driver to golf club reviews