The 2013 Callaway RAZR Fit Xtreme Driver Review
(This Callaway RAZR Fit Xtreme driver review was added on Jun 10, 2014)

In early 2013, Callaway Golf launched its Callaway RAZR Fit Xtreme driver.  A lot of times I have to beg someone to let me borrow a club so I can test and review it, but this time I lucked out.  One of my golf buddies bought a Callaway RAZR Fit Xtreme a few months ago.  He was happy to let me borrow it for a few rounds.  It was an 10.5-degree with a lightweight Aldila Trinity shaft in regular flex.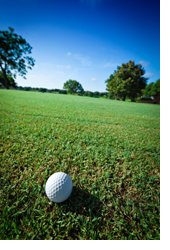 The original RAZR Fit driver was popular with amateurs, so Callaway's introduction of the follow-up RAZR Fit Xtreme wasn't any big surprise.  Lofts ranging from 8.5-degrees to 13.5-degrees are available.  The lower lofts (8.5, 9.5 and10.5) have 440cc heads with a 1-degree open face in the neutral setting; the higher lofts (11.5 and 13.5) have 460cc heads with a square face in the neutral setting.  There are two stock shafts from which you can choose:  the Aldila Trinity that was on my test club and a Matrix Black Tie 7M3.  Callaway says the Aldila is designed to produce higher drives than the slightly heavier Matrix shaft.

At 440cc, the head of the Callaway RAZR Fit Xtreme I tested is slightly smaller than the heads of many current drivers (the higher-lofted drivers come in today's more common 460cc size).  As a result, it has a more compact look than many of the other drivers I've tested lately.  The head has a classic pear shape and a glossy black crown that doesn't offer any alignment aids.  From above, a Callaway RAZR Fit Xtreme gives you a sleek, uncomplicated look.  The sole (black and vivid metallic green) is busier but still attractive.  And who really cares what the sole looks like anyway?  The medium-deep titanium face (also black and not too tall, not too shallow) features Callaway's "X marks the sweet spot."

That's it for the looks of the Callaway RAZR Fit Xtreme.  Now let's talk about the meat of the matter.

The Callaway RAZR Fit Xtreme driver's claim to fame is its "Opti-Fit" adjustment system.  It lets you adjust the head's loft, face angle and weighting.  The "C" setting (I'm guessing "C" stands for "Closed") bumps up the loft by 1 degree and closes the face by about 1.5 degrees.  The "O" setting (probably stands for "Open") decreases the loft by 1 degree and opens the face by about 2.5 degrees.  The "S" position (which probably stands for "Square") is the stock factory setting.

Two Opti-Fit weights (1-gram and 13-gram) come with the club.  By inserting them into the sole's weight ports, you can position the head's center of gravity to promote a straight ball or a draw.

The crown is made of forged composite, a high-tech material that's manufactured in partnership with Lamborghini.  Yes, that Lamborghini, the company that's known for its fast, exotic cars.  Callaway says this material is stronger and lighter than titanium, which means it can create an extremely light crown.  The lightweight crown allows most of the head's weight to be positioned down low, where it's able to help you generate more ball speed and less backspin.

The company's design for the titanium face of its Callaway RAZR Fit Xtreme driver enlarges the sweet spot, boosts ball speed, and adds forgiveness.  Callaway calls the design "Speed Frame Face Technology" and says it's a weight-saving setup that combines Callaway's VFT® and Hyperbolic Face™ Technology.  Skipping the technical details, the bottom line is a better position for the center of gravity, an increased Moment of Inertia (MOI), an optimized ball flight, and more forgiveness.

The club's look at address was classic and pleasing.  The sound when I flushed the ball was equally good.  It sounded like a driver's supposed to, not like an empty tin can.  I can't say I noticed any ball speed or distance gains over the driver I normally use, but forgiveness (especially on toe shots) was more than acceptable.  My miss-hits went almost as far and almost as straight as when I found the sweet spot.  The head seemed stable and resistant to twisting even on my poor shots.  The typical launch angle was fairly high, which many players will appreciate.

Callaway RAZR Fit Xtreme Driver Review: The Bottom Line

Because the Opti-Fit system permits multiple combinations of loft and face angle (not to mention sole weighting), finding the right combo can be time-consuming and frustrating unless you get some help from a club fitter.  After fiddling with it a bit, I ended up putting my test Callaway RAZR Fit Xtreme back into the "S" (neutral) setting.  I'm guessing, though, that if you take the time to dial in everything, you'll end up with a driver that you wouldn't trade in for quite a while.
From the Callaway RAZR Fit Xtreme driver review to the other golf driver reviews.