Welcome to the Dark Side: The Callaway RAZR X Black Driver Review
The Callaway RAZR X Black driver, new for 2012, is flat-out sexy. If that sounds like an odd way to describe a driver, picture the famous "little black dress" that's capable of making almost any woman look seductive. Once you transfer that visual image into the context of a black-crowned driver, you'll understand what I mean. The potential distance gains you can achieve with this club make it sexy and seductive, too.

Maybe I should say that this 460cc driver from Callaway Golf somehow manages to look sexy and mean at the same time. Some would say the Callaway RAZR X Black driver looks "bad," although they really mean "good." Bad, like how the good guys took out the bad guys during the shoot-out at the OK Corral. But no matter how you describe its looks, this club is a real head-turner, in my book anyway. Its deep black crown with red accent lines is simply gorgeous. Those red accent lines are shaped in a way that reminds me of the gray lines on the crowns of the TaylorMade Burner drivers and woods from a few years ago – the 2007 version, I think.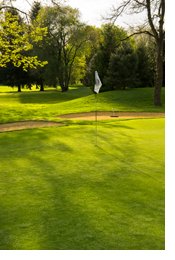 But appearance aside, what can you expect performance-wise from this bad boy? That's what counts, after all.
Well, there are a few reasons why this driver is the winner of a Silver Medal on Golf Digest's "Hot List" for 2012. Callaway Golf is trumpeting the club as "the new dark side of distance" and says it's been designed for golfers who are looking for "the ultimate in speed and accuracy off the tee." That sounds good to me.
The "Forged Composite" used in the crown of the Callaway RAZR X Black driver is a proprietary material that is both lighter and stronger than titanium. Its use allows Callaway's engineers to control the crown thickness with a great deal of precision, resulting in a driver that is light but features a very high Moment of Inertia ("MOI"). Callaway has been making composite drivers for a few years now, and they seem to get better at it every year. The Callaway RAZR X Black driver might be the best composite driver of them all.
The titanium face of the Callaway RAZR X Black driver combines the company's proven "Variable Face Technology" ("VFT®") and "Hyperbolic Face®" Technology to promote longer, more consistent drives by increasing the size of the sweet spot. Callaway calls this particular combination of technologies "Speed Frame Face Technology" and says it makes the face of the Callaway RAZR X Black driver hotter and capable of producing higher ball speeds. But that's not the only function of the Speed Frame Face Technology – it's a weight-saver, too. The weight saved in the face is shifted out toward the head's perimeter to increase the club's MOI.
Something Callaway calls "Distance Trajectory Weighting" is used to optimize the head's center of gravity and promote distance by providing a low-spin, high-launching ball. Distance is also promoted by Callaway's "Streamlined Surface Technology," which makes the club head significantly more aerodynamic than some of the company's other drivers. As a rule of thumb, reduced air drag during the downswing will convert into a higher speed at impact – and that means more distance.
If you're interested in buying a Callaway RAZR X Black driver, your options include 8.5-, 9.5-, 10.5- and 11.5-degree lofts. The club's stock shaft is a 46-inch, 60-gram Fujikura Motore F8 graphite shaft in your choice of stiff, regular or light (senior) flex.
The Callaway RAZR X Black bucks the recent trend in drivers. It doesn't have any movable weights or a hosel sleeve that lets you change the face angle. It is, however, a sweet club that's packed with the latest technology despite the lack of adjustability. It's also long, and distance is what all golfers want. And, its black-with-red-highlights crown will make you feel like you're going to bomb one every time you're standing over the tee.
The Bottom Line: I love the way the Callaway RAZR X Black driver looks. It frames the ball well and it's easy to align. It's a Callaway, so you know it's been made well. Its distance seems above average and it's easy to swing, with a well-balanced feel. I think it's an improvement over the 2011 Callaway RAZR Hawk driver we review on a different page here at www.checkyourgolf.com. Is the improvement worth the cost of upgrading if you already own a RAZR Hawk or some other recent driver? You're the only one who can answer that. But I suggest you give the Callaway RAZR X Black driver a serious look if you're thinking of making a change. I suspect this club will be a big hit with many of our readers.
From Callaway RAZR X Black Driver to other golf club reviews.