Callaway uPro Golf GPS Review:  The Good and the Bad
So what do you need to know about the Callaway uPro Golf GPS? Quality golf clubs are the mainstay of Callaway's stellar reputation. The company also makes other products, including golf GPS devices, balls, shoes, gloves, hats and apparel. Almost all the company's products are excellent in quality.
A good friend of mine (one of my regular playing partners) bought a Callaway golf GPS a few months ago. I love my Garmin Approach G3 GPS, so I was interested to see what his GPS could do. We started alternating our GPS units - one day we'd use his, the next time out we'd use mine. I play with him twice a week, so I've had a lot of opportunities to see what the Callaway uPro is like.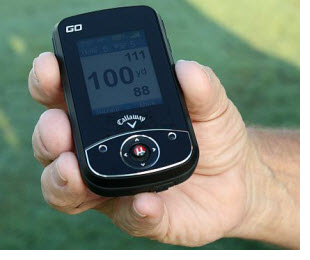 Like any golf GPS, this system boosts your confidence and improves your scores. You know you're going to pull the right club because you know the distance you want to hit. It displays the overall layout of the hole along with hazards and distances to the green. Its color graphics and text are clear and easily viewable even in direct sunlight, which not all GPS units handle well. Distances and views update smoothly and quickly as your location changes. The uPro Go is small enough to fit in your pocket or in a golf cart cup holder. It also fits well in your hand and seems a bit lighter than my Garmin, although it doesn't feel quite as sturdy. The accuracy of the Callaway uPro Go golf GPS seems as good as its competition, including my unit.
Its start-up time is shorter than some other golf GPS units I've evaluated. Once you power it on, you're good to go in just a few seconds.
My friend uses the free "Basic" mode maps, although you can pay extra for "Pro" maps ($10 each, but there's a discount if you buy multiple maps). Pro maps give you some additional features like video "flyover" hole previews and the ability to measure distances to any point on the hole (my Garmin does this for free). Many people stick with Basic mode because it gives them everything they want: distance to hazards and to the front, center and back of the green.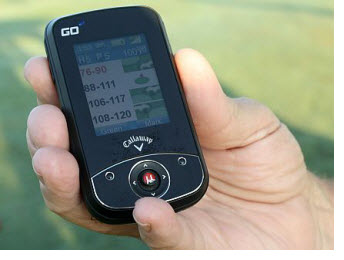 Unlike my Garmin Approach G3 (another color GPS unit), the uPro Go doesn't come with any preloaded courses, and you're limited to storing 50 courses at any one time. Before you can use the uPro Go, you have to download course maps onto your computer and then synch the GPS. I avoided all of that hassle with my Garmin Approach.
My Garmin also has an intuitive touchscreen which makes navigation easy. The non-touchscreen of this Callaway device uses four directional arrows, a central button and two keys beneath the screen for navigation. I'm never able to remember which thing to push to get what I want, but my friend says it's just a matter of getting used to the device.
I've heard some stories about people having trouble synching their device with a Windows 7 or Apple computer. My friend told me he had problems getting his Callaway uPro Go set up (he owns an older Windows computer, not Windows 7), but a couple of calls to Callaway's customer support fixed the problem. I've also heard some people say the battery charge doesn't last the entire round, but my friend's unit always has. Finally, I've heard complaints that Callaway's customer service can be less than helpful. My friend hasn't had any problems like that.
The Callaway uPro Go golf GPS is no longer available in many stores, although you can still find it on amazon.com, ebay.com and several other online sites. It's been replaced by the (supposedly) much more powerful Callaway uPro MX, but that model has been recalled due to a serious flaw, and Callaway is offering refunds to its buyers.
The Bottom Line: I love Callaway golf clubs, but I prefer my Garmin Approach G3 to the Callaway uPro Go golf GPS. It has a lot going for it, but it also has several drawbacks. The setup procedure can be complicated and could even require a call to customer support. It's not waterproof or ruggedized/shockproof, like my Garmin. There's no annual fee, but you do need to pay for the "Pro" version of maps (the "Basic" versions are free). But even worse, it's been discontinued and its replacement, the MX, has been recalled by the manufacturer.
From "Callaway uPro Golf GPS Review" to other Golf GPS reviews.