The Cleveland CG Black Driver
Mean. That sums up the looks of the Cleveland CG Black driver. But now that I'm thinking about it, "gorgeous" works too. I love all-black drivers, and this one certainly fits the bill. The crown is black, the sole is black (with a contrasting silver Cleveland logo and weight designation), and the face is black.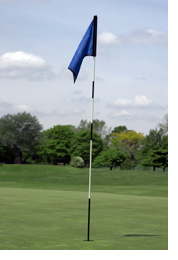 Cleveland Golf has been releasing a series of ultra-light drivers and fairway woods, and with its late-2011 introduction of the new Cleveland CG Black driver, the company has sent a clear signal that it's not ready to rest on its laurels. This new driver has been specifically designed to promote increased distance, and it's targeted at players who have slower swing speeds but want more distance. In theory, an extremely light driver could help two types of slow-swinging players: those who have never been long and want additional distance; and those who have lost swing speed and want to regain their distance.
At 265 grams, thhis club currently is the lightest driver available. It even beats out Cleveland's own 270-gram XL270 (we review the Cleveland XL270 driver on another page of our site). Because the average driver weighs 315 grams, the Cleveland CG Black driver is 50 grams lighter than normal. If a player swings two clubs – one heavier, one lighter – with the same amount of effort, the lighter club will move faster and impart more energy to the ball. So, a reduced-weight driver can help a player swing faster and gain yardage.
The driver also uses several sophisticated design features to boost swing speed and distance. For example, the "Speed Crown Design" is an aerodynamic crown shape that maximizes distance by reducing air drag from all angles during the swing. Another example involves Cleveland's "MaxCOR2 Variable Face Thickness Technology," which decreases the weight of the club face and increases the club's Coefficient of Restitution ("COR") to maximize distance on off-center strikes. And, the sole of the Cleveland CG Black driver features a weight screw at the back. This weight screw creates a low, deep center of gravity, which in turn promotes a high, slightly right-to-left ball flight for increased distance.
The stock shaft for the Cleveland CG Black driver is an excellent 46-inch, 39-gram Miyazaki C. Kua 39 Limited Edition graphite shaft. It's fitted with a lightweight Golf Pride Tour 25 grip, which at 25 grams weighs about half as much as a conventional grip. The shaft is available in A, R and S flexes. Right-handers can choose from 9.0-, 10.5- and 12.0-degree lofts, but no 12-degree is available for left-handers. The face angle of the Cleveland CG Black driver is neutral.
I tested the 10.5-degree Cleveland CG Black driver. It came with the stock Miyazaki graphite shaft in regular flex. I don't normally hit high towering drives, so I was happy to see the high ball flight this club/shaft combo produced. The shaft itself is very light but feels firm and solid, probably due to Miyazaki's excellent construction techniques. It didn't feel at all whippy, which can be a concern with ultra-light shafts. But before I ever hit a ball, I was impressed by the club's awesome looks and extremely light weight.
As I mentioned at the beginning of this review, the Cleveland CG Black driver looked mean (and gorgeous) at address. It set up to the ball squarely and made me feel as though I was going to hammer every one of my drives.
Despite the light weight of the club, I never lost track of the head during my swings. To me, that says the Cleveland CG Black driver is very nicely balanced. And it might have been my imagination, but my swings did feel a little faster than normal (my own driver weighs 315 grams, while this one weighs only 265 and felt like a feather).
At first my drives were erratic – some went left, some went right and some went straight. After a while, I finally realized I needed to even out my tempo and control my swings because of the driver's extremely light weight. Once I got my swing under control (not slower, just more controlled), the ball started jumping off the face and accuracy improved significantly. It's really easy to over-swing with a lightweight driver, and I think that's what I was doing at first. Faster swingers could have a real problem with this driver because it's more suited to rhythmic, controlled swings.
The Bottom Line: Once I figured out I needed to control my swings, I saw impressive distance gains with this driver. If your swing speed is slower than 100 mph, the CG Black could be a great club for you – if you keep your tempo smooth. For faster swingers and those whose swing tempo is far from rhythmic, the CG Black could be a disaster.
From the Cleveland CG Black Driver to other golf club reviews.