The Cleveland CG15 Wedge Review – Is it Worth a Shot?
Is a Cleveland CG15 wedge worth bothering with? Or should you just stick with the wedge that came with your other irons?

Elsewhere on this site, I've mentioned Cleveland Golf's great reputation for creating consistently superior wedges. In fact, Cleveland has been making high quality wedges for almost three decades. Their record in professional tournaments is enviable, including more than 300 PGA Tour wins and an astonishing 25 majors.
So, when Cleveland Golf announced that the Cleveland CG15 wedge was the best-performing wedge the company had ever created, it was time to sit up and listen. Living up to that kind of unparalleled success would be a formidable task for any club. Could this wedge really be that good?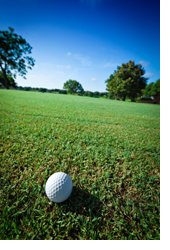 These clubs are known for their ability to spin the ball, so let's begin this review with a spin through their specs. I'll follow up with the impressions I formed about the club when I played it for a few rounds.
First and foremost, the face of the club features precise, sharp, laser-etched "Zip Grooves" of the maximum allowable width and depth. Four texture lines are etched between each Zip Groove to create a level of spin-promoting face roughness that conforms to the maximum limit imposed by the USGA. Cleveland says laser milling creates maximum spin because it produces a more precise, consistent surface roughness than other methods. According to the company, the end result is Cleveland's best-ever spin technology. And that's saying something.
The sole of the Cleveland CG15 wedge is narrow near the toe and wider near the heel. The company says this particular sole design adds to the club's versatility because it improves performance out of the bunker but doesn't affect its playing characteristics from other types of lies. The narrow toe reduces the club's interaction with the turf, but the wide heel reduces the possibility of digging and makes the club more forgiving when the face is laid open.
The stock steel shaft of the club is engineered to enhance feel and provide the precision demanded of wedge shots. Its tip is slightly softer than that of other shafts in order to promote responsiveness and improve feel, but the remainder of the shaft is stiffer than normal to create consistency and optimal launch conditions on full shots.
The wedge comes in multiple lofts (from 46 to 64 degrees) and three bounce choices (low, standard and high). According to Golf Digest, there are 29 different combinations of loft and bounce – 12 more than any other company's wedges offer. You can also choose from three finishes for the head: "black pearl," satin chrome or "oil quenched." I've heard the black pearl finish starts out beautiful but doesn't look nice for very long.
For this review, I tested a 52-degree Cleveland CG15 wedge with the standard bounce and satin chrome finish. I chose this particular configuration because it's the one I would probably buy if I wanted to add a new wedge to my bag. It's a traditional-looking club (there's no cavity on the back) that's virtually guaranteed to never look old-fashioned or out of style, especially in the satin chrome finish.
As with any club I try, I hit some gorgeous shots with the Cleveland CG15 wedge, but I also bladed and chunked a few. I guess my inconsistency explains why I'm not on the LPGA Tour... But hey, none of us hits a great shot every time, right?
Overall, though, this is a sweet little wedge that can be a game-changer when hit properly. It set up nicely behind the ball, gave me some serious spin on my approach shots (and even out of the bunker!) and had a lusciously soft feel. I have a fairly steep swing and my friends call me a "digger," but the bounce on the Cleveland CG15 wedge (the standard bounce, in this case) matches up well with my swing. My full shots landed, bit and gave me at least a decent chance at a one-putt.
Chipping with this club was just as much fun as hitting full shots. My chips landed and released toward the hole with admirable predictability, which naturally boosted my confidence even more.
The Bottom Line: The Cleveland CG15 wedge is a happy combination of classic wedge design and cutting-edge manufacturing techniques, including (but not limited to) the club's spin-promoting "Zip Grooves" and laser-milled "texture lines" between each groove. Cleveland calls the result "surface roughness technology." When you add in the club's super-soft feel and accuracy, there's just nothing to dislike about the Cleveland CG15 wedge. This is a scoring club that could help my game. It's definitely worth a shot if you're looking for a new wedge.
From Cleveland CG15 Wedge to other golf club reviews.