Cleveland CG16 Wedge Review - Can it Improve Your Short Game?
I'm not trying to second-guess the experts, but does the Cleveland CG16 wedge deserve a ranking among the best? It's been awarded a Golf Digest Hotlist gold medal, but can it turn you into a short-game wizard?
Cleveland Golf has produced many first-rate wedges. In this review, I'll describe some of its features and let you know whether I think it lives up to its heritage.
In 2010, Cleveland Golf, long known for the quality of its wedges, came up with a new wedge technology. First introduced in the Cleveland CG15 wedge (reviewed on another page of this site), this "Laser Milled™ surface roughness technology" combined the company's "Zip Grooves" with laser-etched "texture lines" (think "micro-grooves") milled between the grooves. According to the company, the result is a face that conforms to USGA rules but maximizes ball spin by having the optimal roughness for friction between the face and the ball. I guess it shouldn't be surprising that lasers can produce more precise, consistent club face surfaces than older technology.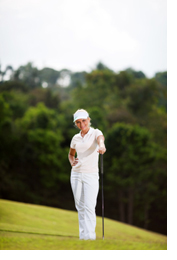 But face grooves and surface roughness aren't the only things engineered into this wedge. The head's cavity back and perimeter weighting help lower its center of gravity and increase its Moment of Inertia ("MOI") for higher shots and more stability and forgiveness than the club's predecessors. And, the company says the consistent heel-to-toe width of the sole promotes excellent performance out of the sand while retaining the versatility that helps players hit accurate, crisp shots from a variety of other lies.
The club comes fitted with the stock 125-gram steel "TRACTION" shaft that Cleveland says can react properly to any type of wedge shot while also improving the club's feel. The shaft's tip is slightly "softer" than normal to promote feel and responsiveness, but the remainder of the shaft is stiffer to provide consistency and ideal launch conditions on full shots.
An abundance of loft/bounce combinations are offered in the Cleveland CG16 wedge. In fact, you can choose one with a loft anywhere between 46-degree and 64-degree, going up in two-degree increments. Starting with the 54-degree, all lofts are available in both a low bounce and standard bounce version (only the standard bounce is possible with the 46-, 48-, 50- and 52-degree versions of the wedge). According to Golf Digest, a total of 16 different loft-and-bounce combinations are possible. To complete the picture, you can also choose a "Black Pearl" or "Satin Chrome" finish for your Cleveland CG16 wedge.I tested the 54-degree loft with the standard bounce in the Black Pearl finish. I've heard that although a brand-new Black Pearl club is beautiful, the finish doesn't hold up well. So that was one of the things I wanted to try to evaluate.
The club looked great at address – kind of Darth Vader-ish because of the black finish. I always felt in control of my swings and I never had to wonder what the head was up to at the top of my backswing.
Feel at impact was superb - solid but somehow still buttery soft. That's exactly the type of feel that has come to be expected from any Cleveland wedge. Apart from a tendency to pull my full shots (probably due to the slight offset built into the Cleveland CG16 wedge), I felt their accuracy was pretty good. Most of my full shots flew higher and possibly a little longer than normal. And most of them landed and stayed on the green instead of releasing excessively. I'm not known for spinning my wedges, so I'm always happy to have a shot at getting up and down.
I'm also not known for my skill out of bunkers. I only had a few sand shots with the Cleveland CG16 wedge, but it did get me out successfully each time. That's more than I can say about my own sand wedge, which I often skull (or even worse, leave in the sand).
My bump-and-run chips with the Cleveland CG16 wedge had a confidence-inspiring, consistent rollout. Once I compensated for the club's slight offset, most of my chips were right on target.
The Bottom Line: With so many loft and bounce combinations, the Cleveland CG16 wedge makes it easy to find the right configuration. The feel is soft but solid, and there's some pretty impressive forgiveness on toe hits. Ball flight was extremely high. The Black Pearl finish was nice to look at when it was brand-new, but it started showing some wear after a dozen or so full shots. I think I'd opt for the Satin Chrome finish if I were buying this wedge. All in all, though, the Cleveland CG16 wedge is a solid club that could probably help just about anyone's short game.
From the Cleveland CG16 Wedge to other golf club reviews.