Is the Cobra AMP Driver More Than a Club With a Flashy Attitude?
Is the Cobra AMP driver a flash in the pan, or can this flashy club full of attitude deliver real performance?

In an unusual and unexpected development (unexpected by me, anyway), Cobra Golf decided to use Rickie Fowler's "Sunday Best" as the inspiration for the color scheme of its flashy new Cobra AMP driver. You probably know who Fowler is if you watch golf on TV. Apart from being one of the game's up-and-coming "young guns," he's the guy who wears bright orange on tournament Sundays. And I mean bright orange.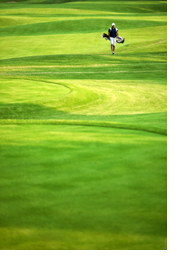 With his orange hat, orange shirt, orange pants and orange shoes, Rickie Fowler looks like a walking glass of orange juice. But what does all this have to do with the Cobra AMP driver?
Well, Rickie recently joined Cobra's Tour Staff, and he brought his orange with him. His vivid Sunday outfits have clearly inspired Cobra to use the same juicy color in its Cobra AMP driver. The club has orange accents on the sole, orange hosel rings, a bright orange grip and orange accents on its silver shaft. Even the outer portions of the grooves on the black face have been filled with vivid orange paint. Thankfully, the crown itself is a subdued silver-gray.
Clearly, Cobra is trying to make a splash. You might even say the club makes a flashy fashion statement. But what about the stuff that really counts? Let's take a look at how the driver is designed, and how it performs on the golf course.
Looking past all the flash, the club takes a unique approach to driver customization. Instead of using adjustable weights like so many other drivers, this one positions discretionary weight and the club's center of gravity differently for each loft that's offered (8.5-, 9.5-, 10.5- and 11.5-degree lofts). The "AMP" in the name stands for "Advanced Material Placement™." You can think of AMP as "pre-customizing" the club based on the golfer's club head speed.
This AMP "Speed Tuning" works together with the stock Aldila R.I.P. Speed Tuned graphite shaft (it's excellent, by the way, and it's available in X, S, R, A and L flex) to promote the type of performance that's typically needed by a golfer with a particular club head speed. For example, golfers with faster swing speeds tend to buy 8.5- or 9.5-degree drivers. They'll get a heavier, shorter shaft than those of us with slower swings (we tend to buy 10.5- or 11.5-degree drivers).
The AMP Speed Tuning is just the beginning, though. The titanium head of the Cobra AMP driver has a semi-forged milled titanium face that features the company's "E9 Face Technology™ with Dual Roll." This particular technology is also found on the Cobra S3 driver we review on another page of this site. It promotes distance and accuracy by significantly enlarging the sweet spot and giving it an elliptical instead of circular shape.
The Cobra AMP driver also uses the company's proven Adjustable Flight Technology™. The AFT system's adjustable hosel allows the face angle of the driver to be set at neutral, 2 degrees open or 2 degrees closed to promote the ball flight you want and improve your accuracy and distance. Making these face angle adjustments is simple but effective.
So, how does the Cobra AMP driver perform on the course? I tested a 10.5-degree non-offset model with the stock shaft in regular flex. The company also offers an offset (draw-promoting) version.
I left the hosel's face-angle setting on neutral. I hardly ever hit a slice, so I don't need a closed face. My usual little draw means I'd probably yank everything left if I hit a closed-face club.
Despite the "stylish" nature of its graphics (some might call them garish), the Cobra AMP driver has a traditional pear-shaped head and gives you a pretty classic look as you're standing over the ball. The black face and crown alignment aid make it easy to line up your shots.
The club felt balanced and swinging it was almost effortless. Typical ball flight was pleasantly medium-high. Distance on well-struck shots was respectable, but this club's forte seemed (to me anyway) to be its forgiveness and accuracy.
Sound and feel were solid and reassuring. Cobra seems to have solved that "tin can sound" that plagued it a few years ago. I always knew when I mishit the club, but neither the sound nor the feel was overly harsh. The distance loss on mishits wasn't overly harsh either.
The Bottom Line: If you're a mid- to high-handicapper and you want to gain accuracy and forgiveness more than extreme distance, the Cobra AMP driver is worth a look. Its flashy graphics make it stand out from the crowd, but it's a driver that's more than just a flash in the pan.
From Cobra AMP Driver to other golf club reviews.