Garmin Approach G3 Review
Before we dive into our Garmin Approach G3 review, there's something I need to say first. I've enjoyed trying out golf equipment and then writing all the golf equipment reviews that are posted on our website, but I have to admit that I looked forward to writing this Garmin Approach G3 review a little more than most. Of course, now I probably have you wondering why I anticipated writing this particular review so eagerly.
Well, it's because I'm intimately familiar with this particular golf GPS device. I don't want you to take what I'm about to tell you as an endorsement of the Garmin Approach G3, because I'm not suggesting that this specific golf GPS unit is better than any of the others on the market. Let me repeat this, because it's important that you understand that I truly am objective and unbiased in my golf equipment reviews. I want you to be able to depend on our golf GPS reviews just as much as you can depend on our other golf equipment reviews. So, to repeat, I am NOT endorsing the Garmin Approach G3 as being better than other golf GPS units. But, I do happen to own one myself.
In this Garmin Approach G3 review you do get a little bonus out of my ownership of this GPS unit, though - instead of trying it out for a round (or two at the most) for the purpose of evaluating its features and writing a review, I've used mine during every round I've played for a little over a year now. For me, that's a couple hundred rounds. And that means I know this little gizmo inside and out.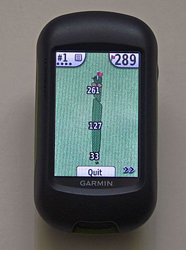 So, this Garmin Approach G3 review captures a year's worth of experience and knowledge about the product. I promise to mention its drawbacks (yes, it has some) in addition to its good points.
First of all, the Garmin Approach G3 is one of the more affordable golf GPS devices on the market. Its MSRP is $269, but I got mine for a little less than that. Its price is lower than that of many other golf GPS units, especially color models - and this one offers beautiful color, not a screen with shades of gray. But that's not the only price advantage the Approach G3 gives you. Unlike most other GPS devices, you don't have to pay a setup fee, and there's no annual subscription fee, either. Many of its competitors charge an annual fee of $50 - and that's year after year after year, so the costs can really add up.
In addition to its color screen, the Approach G3 is both rugged and waterproof, with a rubberized outer housing instead of a hard plastic shell that would crack if you drop it. I've dropped mine a couple of times and haven't noticed any damage. It also uses an intuitive touchscreen design, so the power button is the only button it needs. Other units have different buttons for different functions, and it can be hard to remember which one's which.
The Approach G3 has another advantage over most other golf GPS devices: it comes pre-loaded with more than 16,500 American and Canadian golf courses (Australian and European courses are also available). There's no need to download courses onto your computer and then load them into your GPS, although that's what you have to do with many of the Garmin Approach G3's competitors. With this unit, you take it out of the box, pop in a couple of batteries, and you're good to go. And speaking of batteries ...
... It uses two AA batteries (I use inexpensive rechargeables, which let me get three to four rounds out of a set before I need to swap them out). Updated maps are available for free on the manufacturer's website, and a USB cable is included in the box to let you do this.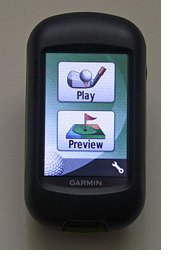 As you move along a hole, the Garmin Approach G3 automatically updates your position so you always know your yardage. You can determine the exact distance to any point (dogleg, bunker, layup zone, etc.) with a simple touch at the corresponding point on the map of the hole. You can also zoom in on the green and drag the unit's flag indicator so it corresponds to the actual location of the cup. And, you can use your Garmin as a digital scorecard for your entire foursome.
Okay, so in this Garmin Approach G3 review, those are some of the features of the Garmin Approach G3. What are its disadvantages?
Well, you do need to replace the two AA batteries after a few rounds, but I don't think this is a big deal. The main problem I can think of is that its color screen can be a bit difficult to read in bright light. But that's about it.
The Bottom Line: You might find a golf GPS unit you like better, but for the price, this one's a keeper.
From the Garmin Approach G3 review to the other golf gps reviews.