Junior Golf Club Set
Young golfers deserve their own junior golf club set. In another article, we explain how golf can be a great experience for kids as well as why it's so important for youngsters to play with junior golf clubs. It all boils down to size and strength: clubs designed for adults are too long, too stiff and too heavy for junior golfers. No adult golf club will be suitable for youngsters until they've grown to almost adult size and strength, and until then, playing with adult clubs will just make the game more difficult and frustrating. Fortunately, more and more parents are now buying junior golf clubs for their kids instead of giving them their unwanted hand-me-downs.

Some parents buy just two or three individual junior golf clubs for their kids to use. A 3-wood, an iron and a putter seems to be a popular (if limited) combination. Other parents might replace the fairway wood with a hybrid or add a driver, depending on the child's age. Many parents, however, are opting to get their kids a complete junior golf club set. If you want your youngster to have a more complete set of clubs and his or her own spiffy, specially-dimensioned carry bag, the best and easiest way to do it is to buy a boxed set. Your child will then be properly equipped, and the clubs will help make the game more fun, easier to play and much less frustrating. All of these things add up to help your junior stay more interested in playing golf.
Back in the old days, parents who wanted to encourage their children to play usually gave them a few old hand-me-down clubs. Now, however, many golf club manufacturers make sets specifically designed for junior golfers. These far-sighted companies range from some of the world's premier golf club makers (PING, Callaway, TaylorMade, Cleveland, Adams and Nike, for example) to companies that aren't so widely known but still produce quality golf clubs (Wilson, MacGregor, Tour Edge, US Kids, Zevo, Lynx, Hippo and XPC). As a result, you can now find a junior golf club set to suit just about any budget.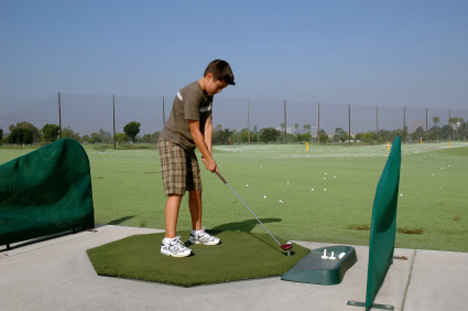 ---
But, it gets even better when you're searching for the right junior golf club set. Manufacturers know that kids grow, getting taller and stronger as the years pass by. So, they make club sets that have been designed specifically for boys and girls of various age groups.
PING, for example, makes a junior golf club set it calls the PING Moxie. The clubs in this set use PING's proven technology but are designed to match the size, strength and abilities of boys and girls between 8 and 12 (about 4 foot-3 to about 4 foot-11 inches tall). The clubs are engineered to be easy to swing, launch the ball higher and give kids a great overall golf experience. This 7-club set consists of a titanium driver, a 24-degree fairway wood, 4 irons (5, 7, 9 and sand wedge), a putter and a lightweight, nylon carry bag. The clubs have junior-sized grips and lightweight, flexible graphite shafts.
The junior sets made by Cleveland Golf are another example of what's available for today's young golfers. The sets are available in 3 sizes, for boys and girls between 3 and 14 or so. The company's 3-club junior golf club set designed for kids between 3 and 6 years old (between 36 and 46 inches tall) includes a driver, iron, putter and lightweight carry bag. The 5-club intermediate set is intended for girls and boys between 7 and 10 (between 47 and 56 inches tall) and includes a driver, hybrid, iron, wedge, putter and bag. Cleveland's largest junior golf club set is for youth between ages 11 and 14 or so (between 57 and 66 inches tall) and includes 6 clubs - a driver, hybrid, 2 irons, a wedge and putter - along with a carry bag.
There are plenty of other fine junior sets that are made by other club manufacturers, and we're not recommending that you buy a junior golf club set that's been made by PING or Cleveland Golf in particular. Here's what we are recommending, however: if there's a youngster in your life that you'd like to encourage to play, a junior golf cub set with the right specifications is by far the best way to do it.
To the junior golf club set overview page.