Nike 20XI Golf Balls Review
Since their release in 2011, Nike 20XI golf balls and their lightweight, resin core have been trying to turn the golf world on its head.
Nike golf balls became a force to be reckoned with in 2000, the year the company introduced the world's first solid core ball (the Tour Accuracy) and Tiger Woods began using it. Now, a little more than ten years later, the company has introduced Nike 20XI golf balls, another revolutionary change in tour-caliber golf balls.
In fact, as of the date I'm writing this, Stewart Cink, Justin Leonard, Michelle Wie, Francesco Molinari, Suzann Pettersson, Jhonattan Vegas and several other professionas are playing Nike 20XI golf balls. But many skilled amateurs are also starting to play with them. I wondered how come, so I decided to give them a bash.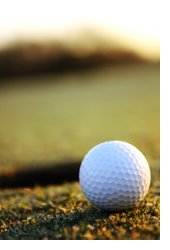 They are available in two models. Although both versions are four-piece balls with 360 dimples, they have slightly different specifications and playing characteristics. The 20XI-X is designed to maximize distance by reducing excess driver spin, while the 20XI-S is the spin version of Nike 20XI golf balls. It uses a slightly softer cover to promote more short-game spin, feel and control. As mentioned above, Nike 20XI golf balls are tour-caliber, and both versions are priced accordingly, with an MSRP of $58 per dozen.
The technological innovations in these particular golf balls primarily revolve around the proprietary resin core that replaces conventional rubber cores. According to Nike, the lighter resin core promotes three things that every golfer wants: faster ball speed for more distance; higher Moment of Inertia to reduce driver spin and promote a longer, straighter flight; and more short-iron spin and control. These specific golf balls are designed for distance and accuracy, with high short-iron ball flights that bite on the green.
Here are some specifics about the two different versions that you can buy, based on my experiences on the course and some research into their technology.
The X Version
The 20XI-X gave me a couple more yards off my driver and fairway woods than what I typically get when I hit them crisply. The extra distance was nice, but not significant enough to convince me to buy these balls. The trajectory with my driver was medium-height, and the ball managed to hold its line well even in Florida's 20 mph winds. It felt harder on impact than I like, but not obnoxiously so. Shots with short irons and wedges flew high and landed softly with some nice "bite." The sound at impact was satisfying - a crack that made me feel like I hit the ball a country mile. Feel with the putter was firm but the ball rolls true on the green. The urethane cover seemed durable - it was basically undamaged after a full round.
The S Version
When I was using my driver, woods and longer irons I didn't notice much difference between the two versions, other than the S version flew a little higher and felt a little softer at impact. The difference in spin with wedges and short irons was noticeable, however. I normally don't spin back my approach shots, but I did manage it a couple of times with the S version. Overall, the shorter the club, the more spin I got.
Feel off the putter was somewhat softer and more satisfying than it was with the X version of these golf balls, and it rolled just as true on the green. The softer feel is probably due to the ball's slightly softer (and somewhat less durable) urethane cover.
The Bottom Line: The 20XI-X is a great wind ball, with a boring trajectory that penetrates the wind and really holds its line. The 20XI-S, on the other hand, has a slightly higher trajectory but can make wedge shots spin and dance on the greens. Both version of these golf balls are packed with some revolutionary technology - especially the resin core that reduces spin off the driver to promote longer shots and minimize slicing and hooking. If you can afford their cost and you're a fairly skillful golfer, you might want to try out both types of Nike 20XI golf balls to see which one you like best. They're probably best suited to golfers with swing speeds of more than 90 mph.
From "Nike 20XI Golf Balls" to other Nike golf ball reviews.