Nike Slingshot Irons Review
Since they were launched in 2005 or 2006, Nike Slingshot irons have been updated several times. They've been steadily improving from what some people think was a slightly rocky beginning.

If you've seen Nike's recent ads on TV or in magazines, you probably remember seeing club designer Tom Stites and the "Oven" - Nike's state-of-the-art testing lab and research and development facility. Well, the current Nike Slingshot irons are a product of the Oven, and some say they're coming out piping hot. Naturally, hearing that motivated me to test them. But are these irons hot enough to make the company truly competitive with golf's "Big Three" club makers - PING, Callaway and TaylorMade? We'll see ...
Nike Slingshot irons are designed to be forgiving, easy to hit game-improvement irons appropriate for mid- to high-handicappers. Most golfers of that skill level struggle with hitting their irons crisply. Nike responded to their needs by coming up with a wide-soled iron that features an innovative Powerbow/Slingback "bridge" or bar that stretches across the cavity at the back of the head and permits progressive perimeter weighting. The bridge is positioned differently from iron to iron, allowing the weight to be placed where it can help the most.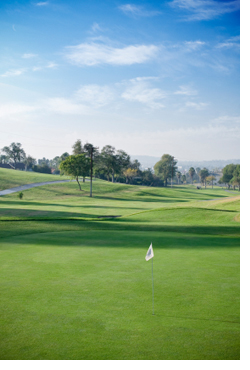 For example, in the longer clubs, the weighting is placed lower, toward the heel and further back to make it easier to launch the ball higher and achieve a square face at impact. But the shorter the iron, the more the weight is placed higher and closer to the toe and club face. This combination promotes more spin (a good thing when you're hitting short irons) and control. Different irons in the set also feature different degrees of offset to promote accuracy. The wide soles of the irons help players avoid digging into the turf.
What I had read and heard about them sounded good to me, so I borrowed a demo set of Nike Slingshot irons from my pro shop and played a round. The clubs I tested came with the stock graphite shafts, but I could have chosen steel if I'd wanted.
The first thing I noticed about the Nike Slingshot irons was how high the ball flew, even with the mid-irons. That's obviously a real benefit for people who struggle with getting the ball in the air. They're game-improvement irons, so seeing their offset didn't surprise me - although I wished it hadn't been there. Offset irons can be miracle-workers for people who tend to slice, but not for those of us who normally hit a draw. Because of the offset, most of the shots I hit with the Nike Slingshot irons went left of where I was aiming. If you tend to leave the ball right, you'll probably love the progressive offset of the Nike Slingshot irons, but because of my draw the offset made it difficult for me to evaluate the clubs' accuracy.
They did seem to fly a little farther than some of the other irons I've tested. That's probably at least partially due to the deep, low positioning of the club head's weight, but I did a little research and learned that they also have slightly stronger lofts than a lot of other irons. But no matter how it happens, I'll take more distance every time.
They set up well at address and seemed fairly easy to align despite the offset. They did, however, look a little "bulky" to me, with a fairly wide topline. As a result, they don't look like "player's clubs."
The feel at impact was just "okay." Some irons I've tested have given me a lot more feedback, but at least I didn't feel like I was hitting real clunkers. The lack of feedback probably won't bother most mid- to high-handicap players because they haven't yet developed a finely-tuned sense of feel. It might disappoint single-digit golfers, however.
The Bottom Line: Nike Slingshot irons have some nice advantages, but they also have a few drawbacks. They only provide minimal feel, and I struggled with their offset. These clubs do, however, launch the ball high and long. All in all, they're a well-made but somewhat expensive set for a beginner or intermediate golfer, with an MSRP at $899 for graphite shafts. Are they good enough to put Nike in the same company as PING, TaylorMade and Callaway? Not yet, in my opinion, but Nike seems to be coming on strong, so stay tuned for the next edition of their irons.
From "Nike Slingshot Irons Review" to other Nike golf clubs.