PING Anser Irons – Can Forged Irons be Right for Average Golfers?
Exciting news! Unlike the company's other clubs, PING Anser irons are forged!
In large part, PING's reputation as a top club maker has been based on its excellent investment-cast irons. But after a decades-long break, PING has recently started making forged clubs again. And, they're getting plenty of buzz. These irons won a Gold Medal on the 2011 Golf Digest "Hot List" (Players Club category).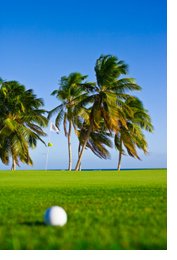 The company is trumpeting these clubs, saying these irons deliver performance and feel that are unmatched by other forged clubs. That's quite a statement. PING backs it up by saying the design and forging process creates performance benefits that previously have not been associated with forged clubs.
What does that last sentence mean? Well, in addition to providing that famous forged feel, PING designed these clubs to appeal to average amateurs in addition to highly skilled players. What's up with that? Before I heard of PING Anser irons, I wouldn't have used the words "forged irons" and "average players" in the same sentence (except maybe to say that matchup would be a big mistake).
The fact that these irons are cavity-backs (a design usually reserved for game-improvement clubs) is a dead giveaway regarding PING's intentions for the clubs. Sure, they're players clubs, but they're also intended to be forgiving enough for average players who want to play forged clubs but don't have a game that "measures up."
Like all forged clubs, PING Anser irons aren't cheap ($1350 for steel shafts at The Golf Warehouse – www.tgw.com), so you'll want to make sure you make the right decision. I've noticed, though, that avid amateurs are usually happy to plunk down their money if they find the clubs that suit them perfectly. These irons are of the highest quality, so you just need to decide whether they suit your game and your budget.
They use a forged, multi-metal design based on an 8620 steel body, a dense, heavy tungsten sole, and a precisely machined face. The grooves are milled to exacting tolerances in order to provide optimal spin. A hollow sole cavity contains a tungsten weight. This sole cavity creates a soft feel and the tungsten weight positions the center of gravity down and back for high launches. A support bar stabilizes the face and also enhances the feel. The overall set design is progressive, emphasizing forgiveness in the long irons and control in the scoring irons.
In addition to the hollow sole cavity, PING Anser irons have three other cavities: one in the toe, one in the heel, and a "custom tuning port" cavity in the center of the back. The heel and toe cavities make the clubs more forgiving by increasing their Moment of Inertia, but they're also intended to make it easier to launch the higher and straighter.
I would have loved to try a set of PING Anser irons. Unfortunately, the only sets I've come across have been fitted with steel shafts – Rifle Project X shafts, in stiff flex no less! Although Project X is a fine shaft, I can't think of anything less suitable for my swing. I just can't handle stiff flex - my swing speed is on the slow side of average.
So, as much as I hated to pass up the opportunity to hit PING Anser irons, I had to. Evaluating their performance with stiff shafts simply wouldn't be fair to the clubs or to you. But that means this review of PING Anser irons (unlike any other club review I've written to date) has to be limited to their appearance. I'm sorry if this disappoints any of our readers, but it's the right thing to do.
The good news about the PING Anser irons: they frame the ball well at address (yes, I went that far, but I never took a swing), with a little less offset than I noticed with PING i20 irons. They have an appealing, subdued satin chrome finish and aren't big and chunky like many game-improvement irons (you'd expect players irons like these to have smaller heads, thinner top lines and narrower soles than game-improvement clubs). The club head size progresses through the set, with the 4-iron being longer heel-to-toe than the 5-iron, the 5-iron being longer than the 6-iron, and so on. The short irons are noticeably more compact than the long irons in the set.
The Bottom Line: PING Anser irons are attractive, and they're built to high quality standards. Unfortunately, I wasn't able to give them a test drive because I couldn't find any clubs with shafts that suited me. I'd guess that stiff flex steel shafts aren't realistic for most average golfers, so I think you should give them a good test before forking over that much cash. The clubs might be great for skilled golfers, however.
From PING Anser Irons to other PING irons reviews.