Ping G5 Irons Review
A Ping G5 irons review? I have to admit that I looked forward to doing the research and field-testing the clubs for this review. Lately, I've been struggling with my irons, so I was eager to get a set of these out on the course to see what they could do. But before I share my experiences with these clubs, let me tell you a bit about PING itself.
PING is one of the world's premier golf equipment manufacturers. Its unusual name comes from the pinging sound made by a putter designed by its founder, Karsten Solheim (for whom the Solheim Cup was later named). The company makes top-quality golf clubs for men, women and juniors, as well as other golf equipment and accessories. Like Callaway's products, PING's golf equipment costs more than that of many other companies ... but you get what you pay for. And, like Callaway's clubs, PING's clubs are engineered to help players of all skill levels achieve lower scores.
PING is a top-notch golf club company and has several lines of clubs on the market at all times. Although the PING G5 irons have been discontinued, they can still be purchased on several websites, and used iron sets can often be picked up online. So, when a friend noticed how badly I was struggling with my irons and offered to let me borrow his PING G5 irons for a few rounds, I eagerly accepted (I'm a woman, but I'm tall and I play with men's clubs). I figured I could "kill two birds with one stone" - try them out so that I could write this review, and if I really liked them, I could find myself a set somewhere fairly inexpensively.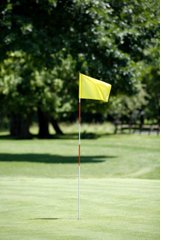 PING G5 irons are what are called "game improvement" irons, designed to help lower the scores of beginning to average golfers. My own iron play needed some help, so I was hoping they'd do that for me, too. By trying them out on the course, I learned that this is an exceptional set of irons even though they're a bit older and harder to find brand new.
So here's the scoop on the PING G5 irons I tried:
These clubs could do a fine job helping a mid- to high-handicap player hit the ball higher. I'm a 9 handicap, and I hit the PING G5 irons a bit higher than my own Nicklaus irons. The ball seemed to go slightly longer, too, but I don't think there was more than a couple of yards' worth of difference. Not enough improvement there to make me want to run out and buy them. But every golfer is different, meaning that your ball striking might improve more noticeably with these clubs than mine did. There's no doubt that they're designed to be straight and forgiving, and when you strike the ball on the sweet spot they feel like you're slicing through butter. All in all, what's not to like?
PING G5 irons use a deep cavity-back design and oversized, offset heads with perimeter weighting and wide soles for maximum forgiveness and consistency in ball striking. Their center of gravity is positioned low and toward the rear to promote a high trajectory, while the offset design helps players fight a tendency to slice. The oversized heads have a large face which improves both performance and feel at impact. An area PING calls a "Custom Tuning Port" (which PING also uses in several later series of irons, such as the G10, the G15 and so forth) sits on the back side of the club head. Its purpose is to stabilize the face and dampen vibrations. The result is a solid, reassuring feel at impact.
These design elements are all intended to help beginning to intermediate golfers hit the ball well. A different set of irons might be more appealing to low handicappers who don't need quite as much help.
The Bottom Line: PING G5 irons are not the company's newest set, but they deliver the same quality that PING has long been famous for. Many golfers still use these irons, even though they could buy something newer. They're probably not the right clubs for highly skilled players, being designed specifically for beginning to average golfers. Still, though, if your goal is to hit the ball longer, higher and straighter, you could do a lot worse - especially for the price. They can still be purchased (usually for a discounted price) on some golf equipment websites.
From Ping G5 irons to golf club reviews