Our PING i25 Driver Review – A Player's Club for Everyone?
(This Ping i25 driver review was added on Jun 7, 2014)

I have to admit that I really love the look of all-black drivers.  I know all about the advantages TaylorMade claims that a matte-white crown provides, but I just prefer the sleekness of black.

When I have an all-black driver in my hands, it screams power and distance.  My drives don't always turn out that way, but I always feel like they will when an all-black driver is behind my ball.

New for 2014, the PING i25 driver has the looks I like.  That's to say, the crown, the face and the sole are all black (the sole has some silvery accents and a tiny bit of red, but let's not be nit-picky).  Even the shaft is mostly black.  The overall effect is sleek, sexy and confidence-inspiring.  Like TaylorMade's white-headed drivers, the finish on the crown of this driver is matte to reduce sun glare.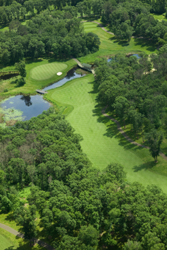 Like many of the drivers that are currently being made by top-notch companies, the PING i25 driver is user-adjustable.  I'll have more to say about that later in this review.

In the old days (meaning only a year or two ago), PING's "i" series of clubs (drivers, woods, hybrids and irons) were always known as player's clubs.  The i25 driver embodies a slight shift.  According to PING, the i25 could be right for golfers of any skill level, not just players with single-digit (or lower) handicaps.  Among other things, it generates less spin, is easier to align, and provides better launch angles than its predecessor the PING i20 driver.  PING also claims the i25 is longer and more accurate than previous clubs in the series.

A variable-thickness face (thicker in the middle and progressively thinner as you move out toward the perimeter) allows for faster ball speeds and longer shots even when impact doesn't occur on the center of the face.

Thanks to two tungsten sole weights, a PING i25 driver has a low center of gravity and a high Moment of Inertia (MOI).  The result is an accurate club with significantly more forgiveness than previous i series drivers.

Now for the adjustability I mentioned above.  PING calls its loft adjustment system "Trajectory Tuning Technology."  To me, it seems more straightforward (but also more basic) than some of the systems used by other driver makers.  It lets you change the loft of the head up or down by half a degree.  That's all it does.  No frills like setting different lie and/or face angles, but very easy to do. 

I tested a 10.5-degree driver fitted with a stock PWR 65 mid-launch shaft in regular flex.  I kept the loft at 10.5 (I could have set it at 10 or 11 if I'd wanted) because that's the loft I normally play.

It was easy to properly aim and align the driver because PING included black "racing stripes" on the crown (they kind of look like the stripes you see on some stock cars).  These black-on-black stripes aren't at all distracting.  In fact, I got used to them so fast that it made me wonder why more club makers don't use similar alignment aids).  Ignoring them is easy if that's what you want, but PING says they're also meant to help us achieve a better takeaway path – something that should lead to more consistency in our drives.

Most of my drives had a penetrating, medium-height ball flight and quite a bit of roll.  No up-and-down balloon shots here.  I've hit some longer drivers in my time, but it's not the shortest either.  I'd grade the length of the PING i25 driver as average to a little better than average.

Because the typical trajectory I saw with my driver was piercing rather than sky-high, hitting into a headwind wasn't a problem.  And thanks to the added forgiveness, when I miss-hit the ball there wasn't a lot of left-right shot dispersion (in other words, my poorer drives still managed to go fairly straight).  There was some distance loss, of course, but it wasn't excessive.
Ping i25 Driver Review: The Bottom Line

Because the PING i25 driver is the latest in a long-running series which has always been aimed at "better players," there's a certain cachet to having one in your bag.  That being said, the driver's forgiveness means it's very playable for an average golfer like me.  It's straight and decently long, and it has a penetrating ball flight for extra distance in a headwind.  Overall, I found it much more playable than its immediate predecessor, the PING i20 driver.  Plus, it's that beautiful black.  So what's its downside?  The MSRP is $399, and PING doesn't let sellers discount its clubs until a couple of years after they're introduced.
From Ping i25 driver review to the other driver reviews.