A Review of the Maximum Game-Improvement PING K15 Irons
The PING K15 irons, developed of course by PING, one of the premier golf club manufacturers in the world, were brought to us as a new set of maximum game-improvement irons. Most of the people I play with regularly are avid golfers, but some of them are getting up there in years and they're looking for clubs that will help them hit the ball higher and longer while still being forgiving. They've been talking about these clubs since they came out in 2010, and the people who have bought them seem to love them. Because of all the favorable buzz and reviews about the PING K15 irons, I decided to take them out for a test drive.

Introduced as a replacement for the company's Rapture irons, the PING K15 irons use multi-material construction (a 17-4 stainless steel body and a lightweight, titanium face insert), a wide sole, and perimeter and sole weighting to promote a high trajectory, stabilize the club head through impact and and enhance forgiveness. Intended for mid- to high-handicappers, this set might be a good choice for players who have difficulty hitting their long irons. Recognizing the current trend toward replacing one or two (or more) long irons with hybrids, the PING K15 irons let you choose your set's makeup from among four hybrids (the 3-hybrid through the 6-hybrid) and nine irons (starting with the 5-iron and going all the way up through the lob wedge). The 3- and 4-irons have been completely eliminated. For example, if you struggle with long irons, you could optimize your set by including four hybrids, making your longest iron a 7-iron. The hybrids that can be included are easy to hit and feature a high Moment of Inertia and an "optimized" center of gravity to launch the ball high and reduce spin.
When I'm evaluating clubs, I choose graphite shafts whenever possible for the sake of consistency. The PING K15 irons are available with PING's AWT steel shafts or the company's TFC 149i graphite shafts. Naturally, I chose the graphites to test. These shafts have a fairly soft tip and are slightly whippy, but they'll give you more swing speed than the heavier steel shafts (which would probably give you more control). The clubs I tested included the 3H, 4H and 5-iron through PW.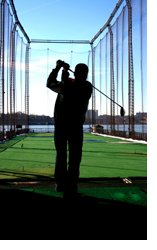 Because they're designed in part to reduce a player's tendency to slice, I struggled a bit with direction. The K15's anti-slice design accentuated my normal tendency to draw or even pull my irons, so that many of the balls I hit went even farther left than what is normal for me. If you slice your irons frequently, however, you might love these clubs, because the anti-slice design definitely works. I can attest to the fact that I hit the clubs higher than my own set of irons, and they seemed very forgiving on off-center hits.
The rough is "up" in my area and consists of some pretty gnarly Bermuda which can easily twist an iron as it's swiping through. But the PING K15 irons stood up to the rough extremely well - in fact, they resisted club head twisting much better than my own clubs. The club head felt stable from all types of lies.
I've hit several sets of irons (the Callaway Diablo Edge irons and the TaylorMade Burner 2.0 irons, for example) longer than these clubs, but they did give me respectable distance. Of course, what I'm perceiving as "adequate" distance might be due to the fact that I hit the ball higher with the PING K15 irons than I do with my own clubs.
Crisply-struck shots feel smooth, and off-center shots result in subtle feedback - enough to let you know you've hit the ball poorly but not enough to be unpleasant.
The Bottom Line: I don't need all the offset the PING K15 irons provide, but I still thought the irons were pretty sweet. They launch the ball high and they're very forgiving. They're also capable of taking a slice almost entirely out of the picture. Although the clubs make it difficult to work the ball, that's not usually a concern for a golfer who wants maximum game-improvement irons. I wasn't overly impressed with the hybrids, possibly because I normally hit my long irons fairly well. A high-handicapper or someone who slices their long irons might love the hybrids, which also have a fair bit of anti-slice offset. As with all the company's clubs, the PING K15 irons are solidly-built and should stand up well to the test of time. Although these clubs are not ideal for highly skilled players, they could be game-changers for beginners and higher handicap players.
From PING K15 Irons to Golf Clubs Reviews.