The PING Scottsdale Wolverine Putter
I have a lot of experience with the 2011 PING Scottsdale Wolverine putter. My husband picked one up a few months ago, and I followed suit a few weeks later. The MSRP is $159, and PING doesn't allow any promotional pricing.

My putting had started going south a few weeks before my husband bought his new putter. So, I decided to take his Wolverine® out onto the golf course on the days when he wasn't playing. This review isn't based on just a short demo. I probably played at least 15 or 20 rounds with it before deciding to buy one for myself, and I've been playing it 3 or 4 times a week ever since. I ended up buying the heel-shafted version of the PING Scottsdale Wolverine putter, but it's also available in center-shafted and offset models.
I'm getting ahead of myself here. I want to tell you about my initial experiences with the putter - the types of things that made me decide to buy one of my own.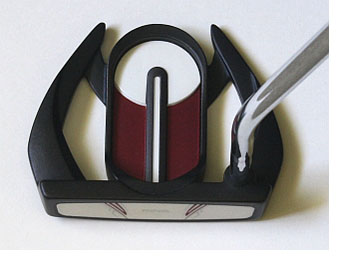 Before taking my husband's putter out for an actual round, I spent some time with it on the practice green. As I said, my putting had been off for a while, but my first few putts from 10 or 15 feet all came within a few inches. That inspired me to try some longer putts, and by golly, they were all within two or three feet - easy tap-ins. At the time, I was thinking "I used to be a pretty good lag putter, but it's been a while since I could say that. Maybe I'm onto something here."
So, armed with a bunch of new-found confidence in my putting (or, at the least, confidence in the PING Scottsdale Wolverine putter I was using), I headed off to the first tee. Have you ever played a round and felt that you were going to sink or at least come very close with every putt you hit? That's the way I felt that day.
The best way I can sum up the looks of the putter is "purposeful." Some people don't care for its appearance, while others think it inspires confidence. I fall into the second camp - there's nothing I dislike about the way this putter looks. Standing over the ball, it makes me think I'm going to make everything I hit. I think the anti-glare, satin-finished burgundy, white and charcoal color scheme is appealing, and I love the sole's highly-polished surface, which features a stylized white saguaro cactus. The thermoplastic elastomer (TPE) face insert is white with some small touches of burgundy. Impact with the ball is soft but firm, with a subtle, muted sound. I think the overall effect is a winning combination, but not everyone's crazy about it. Buying a putter is a matter of personal taste. You need to make your own decision about its appearance, because it's important to use a putter that looks good and inspires confidence.
The TPE face insert gave the putts a soft yet solid feel, and I quickly got the hang of how to control the distance of my putts. Accuracy was never a problem with the PING Scottsdale Wolverine putter, probably due to its attractive but effective alignment aid: a vivid white line along the center of the flange, set into a burgundy-colored background.
The balance of the PING Scottsdale Wolverine putter is, in my opinion, remarkable. Its face balancing is perfect for a straight back and through putting stroke. I have just a touch of an arc, but it's straight enough to still work well with this putter. When my putting went bad a while back, I always felt like my takeaway was "wobbly." That doesn't happen with the PING Scottsdale Wolverine putter. There's something about its balance or weighting that helps me take the putter straight back without any wobbling or loss of control.
I even like the standard grip that comes with the PING Scottsdale Wolverine putter. It's red and gray, which suits the overall color scheme of the putter perfectly, and it's tacky enough to promote a loose, relaxed grip.
The Bottom Line: I think the PING Scottsdale Wolverine putter swings beautifully, looks great and delivers consistent, accurate results. It makes distance control and alignment easy, and because of its excellent balance you'll have a great chance of striking the ball smoothly and rolling your putts purely. Isn't that what putting's all about?
From the PING Scottsdale Wolverine Putter review to other PING putter reviews.