TaylorMade R9 Irons Review:  Forgiving Clubs for Better Players
(This TaylorMade R9 Irons review was added on Jun 4, 2014)

To my mind, these R9 irons are some of the most beautiful clubs I've ever seen.  Tastes in club appearance vary from person to person, of course, but this particular set made my jaw drop the first time I saw them.  And, I think their clean, elegant looks do a lot to inspire confidence (couldn't we all use a little more of that?).
TaylorMade R9 irons are cavity backs, but somehow they make you suspect that you're actually looking at blades.  Who among us wouldn't love to be able to play a set of player's blades?  And even if we lack the skills to play blades, wouldn't it be great to at least look like we are?  Because they look great in the bag as well as at address, some bragging rights are involved when you're playing these R9 irons.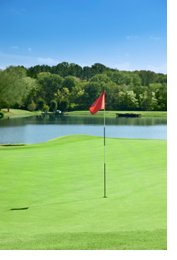 So, I guess you get the picture about their looks – I think they're terrific.  But how do the clubs perform?  That's the most important thing, after all.
Well, despite their elegant looks, TaylorMade R9 irons are cavity backs.  That means that important game-improvement features are built in, even though they're meant to be played by average to better golfers and they look like a professional's set (some pros did play them after they came out in 2009).  In fact, a ton of advanced, performance-enhancing technology is designed into these beautiful clubs. 
Any cavity back irons, including TaylorMade R9 irons, will be more forgiving than blades.  Really, though, these clubs are all about performance and distance.  According to a TaylorMade representative, they're "aimed at the technician" and have "a player's shape with a clean and conventional look."  The result of the technology that's built into the clubs is "an iron that's phenomenally easy to play despite its classic appearance, and extremely controllable and accurate as well."
I guess that quote sums up how I feel about TaylorMade R9 irons pretty well.  Here are a few more details:
These are "Goldilocks clubs" - the heads are oversized, but they're not too big or too small.  They also have just the right amount of offset to make them easy to hit straight and long.
Somehow they manage to produce good distance even on miss-hits.  Hit your shot off the heel or toe and you'll only see a minor distance loss.  I'm guessing this is due to the clubs' undercut cavity and heel-toe weighting.
Despite their forgiveness, TaylorMade R9 irons let you work the ball.  Depending on your individual swing, you might have to put a little effort into hitting an intentional fade or draw, but it's more than possible.
The typical trajectory is fairly high, even for players with slower swing speeds.  The set I tried was fitted with Fujikura Motore 65-gram graphite shafts in regular flex.  This particular model shaft has a "High Inertia Tip" that's designed to boost ball speed (and therefore distance) by adding some extra kick through the impact zone.  I suspect the shafts played a role in producing the high ball flights I saw (the stock steel shaft is the KBS 90-gram).
The soles are wider than blades would have, but they promote crisp contact from various lies.  The beveling on the back edge of the sole allows the entire sole to contact the turf but not get in the way.
They'll never feel as sweet as forged blades, but shock absorbing materials in the 3 through 6 irons mean the long irons give you a better feel than you might expect from cavity backs.  The short irons dampen harsh vibrations too.
The sound when you hit the ball flush is a solid but muted click.  Miss-hits have a slightly different sound that's just different enough to let you know you missed the sweet spot.
TaylorMade R9 Irons Review: The Bottom Line

All in all, I'd say these irons are sweet-looking clubs with performance to match.  Except for their slightly thicker top lines and their slightly wider soles, they'll make you wonder if you're really looking at player's blades.  In some ways, they're my "dream irons" – besides looking terrific, they have a large sweet spot due to a low center of gravity and a high Moment of Inertia (MOI).  Because of these characteristics they give you good bit of forgiveness.  But unlike many game-improvement clubs, they're forgiving without sacrificing anything in the way of performance.  They're long, accurate, workable and easy to control.  Ball flights are high even on slower swings like mine.
What's not to like?  I'd buy a set of these irons in a New York second.
From TaylorMade R9 irons to the other golf iron reviews.