TaylorMade RAC OS2 Irons Review
(This TaylorMade RAC OS2 irons review was added on June 3, 2014, although the clubs were actually launched quite a few years ago)
While paging through the logbook I keep on the clubs I test and review, a glaring omission jumped out at me.  I don't know why or how I overlooked them when they first came out, but somehow I missed the TaylorMade RAC OS2 irons.  The set was launched quite a few years ago (2005 or 2006, I think), but I knew my oversight should be corrected.  So, I asked around to see if I had any friends that play TaylorMade OS2 irons - and if so, could I borrow them for a couple of rounds. 

To make a long story short, I managed to find a guy at my course who was willing to let me borrow and test his clubs.  This review of the TaylorMade OS2 irons is based on what I learned while playing two actual rounds (I didn't just hit them on the driving range).
First, though, a little background on the set. 
Although a lot of golfers call them "TaylorMade OS2 irons," their "official" name is TaylorMade RAC OS2.  I'm not sure what the "RAC" stands for, but knowing TaylorMade it means something.  I do know what the "OS2" stands for, though.  The OS signifies their oversized heads, and the 2 is because this is the second version of the company's OS irons (the earlier version is called TaylorMade OS irons).
That's all mildly interesting, but now for some info on their specs.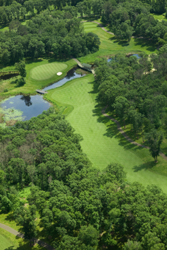 TaylorMade OS2 irons are entry-level (polite-speak for beginners) clubs with oversized, cavity-back stainless steel heads.  The company made both men's and ladies versions.  I tested a men's set that was fitted with lightweight UG 65/65 regular flex graphite shafts.  Clubs with TaylorMade 95-gram steel shafts (stiff and regular flex) are also available.  The standard set configuration is a 3-iron through a pitching wedge (to my mind, "3-iron" and "beginning golfer" don't go together at all, but that's just my opinion).

The clubs feature a generous offset to help players square the face at impact.  Each one also has a sole weight (called a "Tuned Performance Cartridge" by the company) positioned at the bottom of the back cavity.  This weight cartridge lowers the head's center of gravity and raises its Moment of Inertia (MOI).  Besides making the clubs more forgiving, it makes it easier for beginners to hit the ball high.

Each iron also has a wide sole to help beginners hit the ball cleanly from different lies – fairway, rough, bunker, fringe, hardpan, and so on.  The faces are thin to promote distance.  A thick topline boosts confidence at address.

Here's what I discovered during my TaylorMade RAC OS2 irons review on the course:

These irons do what they're supposed to, meaning they're easy to swing, they make it easy to pick the ball from different lies, and they promote high shots.  They also seemed very forgiving, which is something that's extremely important to a beginning golfer - if a beginner has a hard time hitting the ball, it's easy to get discouraged and quit.  Instead, this is a set that can help a beginner gain and maintain confidence.  TaylorMade OS2 irons would make golf fun even for someone who's never tried it before.  Isn't that what irons like this are all about?

They weren't the longest irons I've ever hit, but I didn't expect them to be.  They also wouldn't let me work the ball, but beginners don't try that anyway – all a beginner really wants to do is hit the ball as straight as they can.  They were easy to square at address and, thanks to their offset, easy to square at impact too.  I didn't miss the sweet spot very often, but when I did the ball went fairly straight.  Almost without exception, my shots were high.

The short irons came up short on being able to generate the spin that's needed for precision approach shots.  But again, a beginner won't really miss that, at least not for a season or two.

TaylorMade RAC OS2 irons review: The Bottom Line

TaylorMade OS2 irons aren't the most versatile set I've played.  They wouldn't let me work the ball and the short irons didn't create much spin.  Those drawbacks aside, they feature TaylorMade's usual quality and craftsmanship.  And they do what they're designed to do really well.  They'd make a great starter set for someone who's just beginning to play.  They have the game-improvement features that help novices and other high-handicappers square the face at impact, make better contact, and get the ball off the ground.  They're confidence-boosters for beginners, even though they're not meant to be played by accomplished golfers.
From the TaylorMade RAC OS2 irons review to other iron reviews.