TaylorMade Rossa Core Classic Putter Review
There are several models of TaylorMade Rossa Core Classic putters, including the Core Classic Fontana 7 mid-mallet, the Daytona 1 and 6 blades, the Monte Carlo 7 mid-size mallet, and the Sebring 1 blade. All of them use traditional head shapes that have been successful for a long time.
So, you can think of these putters as being time-honored classics that have been updated and enhanced with today's modern technology. You won't see any giant heads, swooping curves or wide-flying wings on any of the TaylorMade Rossa Core Classic putters – just simple, elegant, effective, classic lines.
Here's some helpful information about the design features shared by all TaylorMade Rossa Core Classic putters, followed by some more specific details about a couple of the models in particular.
The soft 304 stainless steel head of every Core Classic putter has a "Tuscan nickel" semi-matte finish that gives it a sleek, attractive look. And each of these putters has a soft "AGSI®+" face insert which uses 14 closely-spaced grooves to promote a smooth roll and deliver a pleasing feel. The AGSI®+ technology (Anti-skid Groove System Insert) is designed to momentarily "grab" the ball at impact, minimize backspin and promote forward spin, provide good "touch," and deliver excellent speed and directional control. The insert's 14 grooves are filled with a soft polymer substance that is intended to promote excellent feel by reducing harsh vibrations at impact.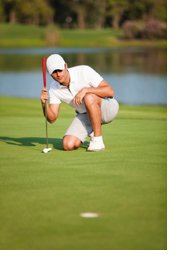 The AGSI®+ face insert and the semi-matte finish are the two most significant features all these putters have in common. I tested a couple of them – one blade and one mid-mallet - so here's some more specific information on the models I played. Let's take a look at the Core Classic Daytona 6 Anser-style blade putter first.
After getting hold of a demo putter and practicing for 10 or 15 minutes, I put the Daytona 6 in my bag for 2 rounds. It's a classic blade, and its looks reminded me strongly of a PING Anser-style putter. The head might be a little larger and the heel and toe beveling might be a little more pronounced than an Anser, but overall, the two clubs look strikingly similar. Unlike some of today's putters, there's nothing overdone or overwrought about the Daytona 6 – it just uses simple, elegant lines.
Once I got used to the Core Classic Daytona 6 I was rewarded with good distance and accuracy. The head is nicely balanced, and for a blade it's an easy putter to keep on-plane. The ball rolled smoothly and didn't skip or hop, so I guess the AGSI®+ face insert performed as advertised. It probably also contributed to the fact that the ball came off the face with a pleasingly soft but firm feel. And for a blade putter, I thought it was pretty forgiving. All in all, I'd recommend the TaylorMade Rossa Core Classic Daytona 6 for just about any golfer who wants to play a traditional blade.
The TaylorMade Rossa Monte Carlo 7 is the other Core Classic putter I tested. It's a mid-mallet putter which also features the AGSI®+ face insert and Tuscan nickel head finish. I usually prefer mallet putters over blades, and this one didn't disappoint.
As with the Daytona 6, the face insert of the Monte Carlo gave me a smooth roll and great touch. If anything, I would have preferred slightly more feedback on my off-center putts. Heel-toe weighting gives the Monte Carlo a fairly high Moment of Inertia (MOI) to help it resist club head twisting and turning on mis-hits.
Distance control was excellent and so was the accuracy. I noticed one significant difference between the two Rossa Core Classic putters I tested: although the Daytona 6 was well-balanced and fairly forgiving for a blade, the Monte Carlo 7 was even more forgiving. Of course, that's why a lot of golfers prefer playing a mallet or mid-mallet putter – typically, they're easier to keep on-plane and they're usually more forgiving than blade-style putters. But the Monte Carlo 7 seemed marginally more forgiving than many of the mallet putters I've tested. If you prefer playing a mid-mallet putter, the Monte Carlo 7 is easy on the eyes and hard to beat for the price.
TaylorMade Rossa Core Classic putter: The Bottom Line

With an MSRP that hovers around $119, none of these Core Classic putters are expensive. In fact, they're attractive, affordable clubs that can give you fine performance on the greens. So, if you're looking for a bargain or you're on a limited budget, just find the Core Classic head shape you like – you have a choice of mid-mallets and blades - and then give it a try. You might be surprised by how good the TaylorMade Rossa Core Classic putters really are. They can give you solid performance and a lot of bang for your buck.
From the TaylorMade Rossa Core Classic putter to other putter reviews.