TaylorMade Tour Preferred MC Irons – The "Middle Ground" of The Company's New Crop of Player's Irons
(This TaylorMade Tour Preferred MC Irons review was added on 28 May 2014)

TaylorMade came out with three new Tour Preferred models of irons in early 2014:  the Tour Preferred MC irons; the Tour Preferred MB irons; and the Tour Preferred CB irons (which we review on a separate page of our site).  The company designed all three of its new Tour Preferred sets for better players, but out of the three, the cavity-backed Tour Preferred CB irons offer the most forgiveness, which is why we decided to do a separate review of those clubs too.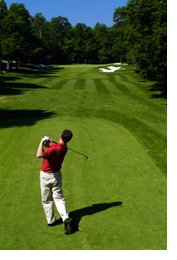 All three of these new TP models, including the TaylorMade MC irons, come in a standard configuration of 3-iron through pitching wedge.  They all have an attractive polished satin nickel-chrome finish.  KBS Tour steel shafts are standard. 

TaylorMade says its Tour Preferred MC irons are "The Ideal Blend of Beauty, Feel and Consistency."  It's a blended "combo" set, but not the kind you're probably used to hearing about (the ones that substitute hybrids for the long irons that would otherwise be in the set, with conventional cavity-back irons for the shorter clubs).  Nope.  This combo is for accomplished players, not people who find it hard to hit a long iron.  The 3- through 7-irons are cast stainless steel, while the short irons (8 through pitching wedge) are forged from 1025 carbon steel to provide better feel, spin and control on approach shots.

In addition to being a set with cast long irons and forged short irons, the TaylorMade MC irons have a shallow "muscle cavity."  The clubs aren't true cavity-backs, but they're not true muscle backs either– the "muscle cavity" makes them something in between.  Its purpose is to boost the clubs' Moment of Inertia (MOI), thereby improving stability and increasing forgiveness.  As a secondary benefit, the muscle cavity lowers the head's center of gravity, thereby promoting higher ball launches (secondary because skilled players don't struggle to hit the ball high).  TaylorMade says the cavity is designed to provide the "perfect blend of feel, workability and stability."

The heads of the 3- through 7-irons also incorporate TaylorMade's "Speed Pocket™" (it looks more like a slot than a pocket to me) to produce faster ball speeds when impact occurs low on the face.  It does this by making the face flex more at impact, especially on miss-hits.  In the TaylorMade MC irons, the Speed Pocket™ is also intended to improve feel (in the CB model, it's mainly meant to promote longer and higher shots).  Unfortunately, it's hard to believe that the feel of the cast long irons is similar to that of the forged short irons.  The discontinuity in feel that will almost certainly arise from the differences in the two types of clubs might be unsettling for some golfers.  Others may be happy just to get the forged feel and control that's provided by the short irons – after all, it's on approach shots that those factors are most important.

TaylorMade MC irons are meant to be player's clubs, but they do manage to include a few game-improvement features.  For example, the top lines, sole widths and lengths of the heads are all a bit wider or longer than those of the TaylorMade Tour Preferred MB model, a set which consists entirely of true player's blades.  Also, the face grooves are milled to encourage spin and to promote better control when hitting from the rough.

TaylorMade Tour Preferred: Bottom Line

TaylorMade's Tour Preferred MC irons represent the middle ground in the company's new crop of player's irons.  They're not as forgiving as the TaylorMade Tour Preferred CB irons we review on another page of this site, but they're also not quite as demanding as the TP MC irons and they do provide a little help with their long irons.  The short irons offer the feel, accuracy and control of forged.  As a result, the company expects its TaylorMade MC irons to become popular with players on the Tour and discerning, high-level amateurs. 

As for the rest of us, TaylorMade MC irons might be right - but only for players who have the skill set to hit them consistently.  Even with their moderate game-improvement features, they won't be right if your swing needs big improvements or you don't hit the sweet spot almost every time.  If you want a set of player's irons but need a little more forgiveness than TaylorMade MC irons offer, check out the TaylorMade Tour Preferred CB irons we review elsewhere on our site.
From TaylorMade Tour Preferred MC irons to other golf club reviews.