Do Titleist AP1 Irons Deliver the Advanced Performance Their Name Promises?
Like their siblings the Titleist AP2 irons (reviewed on another page of this site), Titleist AP1 irons promise "advanced performance." Or at least that's what the "AP" in the name signifies. I decided to find out if these clubs live up to the promise of their name.

Unlike the forged Titleist AP2 irons, Titleist AP1 irons are cast. But, they're not your typical cast game-improvement irons because they share several design features with the forged AP1s. And, they're designed for players with low- to mid-handicaps, not mid- to high-handicaps like many cast game-improvement irons.
I was outclassed when I tested the Titleist AP2 irons. They're designed for professionals and highly skilled amateurs with handicaps lower than my 9, and I simply don't have the game. But I had real hopes for the Titleist AP1 irons. Keep reading to find out what I learned when I took them onto the course.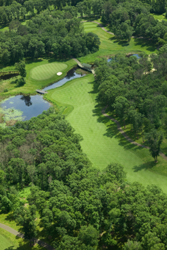 First off, I hit my test set of Titleist AP1 irons the day after I tested the forged Titleist AP2 irons. That, together with the famous Titleist script and other characteristics the two sets share, probably makes some comparisons almost inevitable.
They're cast, but these irons are every bit as handsome as their forged AP2 brothers. Their advanced design and multi-material construction (shared with the AP2s) create the type of feel and level of forgiveness that are appreciated by skilled and "aspiring" golfers alike. And, their forgiving nature doesn't prevent you from working the ball a little.
The heads are stainless steel, but a high-density tungsten sole weight is strategically positioned on the bottom. An elastomer/aluminum medallion in the back cavity is intended to absorb harsh vibrations and promote a satisfying feel at impact. Among other things, the multi-material design creates forgiveness by positioning weight down and out toward the perimeter, resulting in a higher Moment of Inertia ("MOI"). It makes them much more forgiving, with improved directional and distance control on miss-hits.
Despite the back cavity's vibration-absorbing medallion, the clubs look fairly traditional at address. The topline is beveled and fairly thin, so the look is one that the majority of better golfers would appreciate. And the blade length of the short irons progressively shortens for an even better look. Overall, their appearance is confidence-inspiring.
True Temper's Dynalite Gold XP steel shafts are the stock shaft for these irons, but several graphite shafts are available as options. Titleist says the stock Dynalite Gold shafts have a responsive tip that promotes distance and optimal launch angles. I usually prefer graphite shafts because they weigh less than steel, but Dynalites are a relatively lightweight steel shaft. I was happy to give them a shot.
When I took the Titleist AP1 irons out on the course, I had a lot more luck with them than I did with the Titleist AP2 irons I tried. I suspect that's because the AP1s are much better-suited to my skill level (I play to a 9 handicap, and I'm just not quite "good enough" for the AP2s). Shots hit on the sweet spot produced a medium-to-high ball flight and pretty strong distance – maybe half a club longer than my own irons. The feel on my flushed shots was sweet. According to Titleist, the elastomer/aluminum cavity medallion makes the face hotter for additional distance in addition to improving the sound and feel of the clubs.
Although they felt terrific when I struck the ball properly, the clubs did let me know when I missed the sweet spot. But thanks to the forgiveness built into the Titleist AP1 irons, those vibrations I felt in my hands didn't stop the ball from staying more or less on line.
Tough lies didn't give me much of a problem - not even when I was hitting the 4-iron. I was able to dig out the ball from some pretty deep rough, and hitting from the fairway was a snap. The only difficulty I can recall having with the Titleist AP1 irons involved trying to keep the ball low when I had to stay under hanging tree branches. I guess the lowered center of gravity really works, because almost all of my shots were fairly high.
The Bottom Line: I think the Titleist AP1 irons are pretty sweet, and they're much more appropriate for my 9-handicap than the forged Titleist AP2 irons. They're not for a high-handicapper, however. They have a clean, confidence-inspiring appearance and terrific feel. When struck well, they produce some great shots, and they're surprisingly forgiving for Titleists. These could be some great irons if you have the right skill set. And when it comes down to it, what golfer wouldn't want that famous Titleist script lending a touch of class to his or her clubs?
From Titleist AP1 Irons to other iron reviews.