Titleist NXT Golf Balls:  Are They The Best All-Around Balls on the Market?
The question itself speaks volumes about Titleist NXT golf balls. "Enquiring minds want to know," as they say, and the question almost demands an answer.

These golf balls have always been a mid-range ball: not the best you could buy, but far from being at the bottom of the pile. They are squarely aimed at players with mid-level skills who want distance, durability and straightness at a reasonable price.
Recently redesigned, the previous version of the NXT was called the "Titleist NXT Extreme." The word "Extreme" has been dropped in the name of this new version, but that's probably appropriate because a mid-range ball doesn't need to be "extreme" to be great. It just has to be a great "Jack of All Trades" - very good at many things, but not necessarily outstanding in any of them. So, a great ball in this category must not have any glaring weaknesses, instead delivering a nicely balanced mix of distance, durability, straightness, feel, spin, and affordable price. Read on to see if I think Titleist NXT golf balls fit the bill.
I think I'm well-equipped to answer the question of whether these golf balls could be the best all-around balls available. Currently, my handicap is hovering around 9, so my skills are average or maybe slightly better. That means I'm a member of the NXT's target market. And, my job here means I've tested and played dozens of different golf balls. That means there are lots of balls I can mentally compare to the NXTs. I've evaluated balls that were so hard when I hit them that calling them "rocks" was an act of kindness. I've also evaluated high-performance balls which most people would think of as la crème de la crème. Before I began testing Titleist NXT golf balls, I figured they would probably fall somewhere in the middle between those two extremes.
I was right.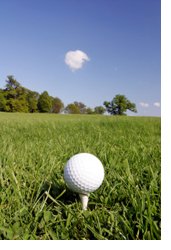 And, for what it's worth, in my opinion they are a great "Jack of All Trades" ball. In fact, I think they're a better ball overall for average players than the Titleist Pro V1 or Pro V1x, the TaylorMade Penta TP, the Bridgestone B330, the Callaway Tour i(s) or i(z), the Nike 20XI-S or -X, the Srixon Z-Star or Z-Star XV, and other "tour caliber" balls. Overall, they also beat out the balls that primarily promote distance, like the Callaway Warbird, Bridgestone e6, Slazenger Raw Distance, Maxfli/TaylorMade Noodle, Precept MC Lady and so forth. Here's why.

Distance
Average players almost always have slower swings than professional golfers. For average golfers, Titleist NXT golf balls compress better and have less spin off the driver than tour caliber balls, so they travel farther. They are shorter than distance balls, but not by much.
Durability
Titleist NXT golf balls are fairly durable. In fact, I found that these balls are much less likely to get scuffed, nicked or cut than almost all the tour caliber balls. Once again, though, the distance balls have a slight edge here.
Straight Ball Flight
Generating less spin than tour balls, Titleist NXT golf balls tend to go straighter and hold their line better in wind. They're also straighter than many pure distance balls.
Feel
As a general rule, tour balls are the softest and distance balls are the hardest. Titleist NXT golf balls feel slightly harder than tour balls but much softer than many distance balls. There's a reason many people call distance balls "rocks."
Spin
Greenside spin is one of the great strengths of many tour balls. NXTs don't spin and bite on the green the way tour balls do, but they out-spin distance balls by a large margin.
Price
Well, most tour caliber balls sell for $40 per dozen and up. Titleist NXT golf balls generally run around $25. Distance balls are often half the price of the NXT, or even less. Going strictly on price, the advantage goes to distance balls.
The Bottom Line:
The phrase "Jack of All Trades and master of none" describes the Titleist NXT to a "tee." Although they're not cheap, they're more affordable and durable than tour caliber balls. Except for length, they deliver far more performance than distance balls, although not quite as much as tour balls. I'm not sure if they're the best all-around balls in the world, but in my mind, Titleist NXT golf balls are a great overall value for mid-level players.
From Titleist NXT Golf Balls to other Titleist golf ball reviews.