Tour Edge Bazooka GeoMax 2 Driver Review
The Tour Edge Bazooka GeoMax 2 driver might be worth considering if you're an average- to high-handicap player and you want decent performance at a very low cost. It's a few years old now, but it's still being sold online, at various websites. In fact, I've seen brand-new clubs up for sale for less than $40 fairly often. Golfsmith (www.golfsmith.com) is selling them for $39.94 right now, but that's just one example. You might also be able to pick up a used (search for "preowned") Tour Edge Bazooka GeoMax 2 driver online or in a pro shop, although make sure it's in good condition before you buy.

So, by looking around you can find one for very little money. Even when the club first came onto the market (back in 2008 or 2009, I think), it was priced very reasonably for a driver. If I remember correctly, at the time its MSRP was around $220.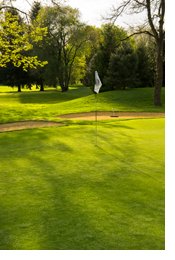 Even though it's not this year's model, would a Tour Edge Bazooka GeoMax 2 driver be a good choice for a beginning player or a mid- to high-handicap golfer who wants more distance and better accuracy? Read this review to learn the answer to that question.
Tour Edge has never been known as one of the top-tier golf club manufacturers. The company's main market has always been average or high-handicap golfers who are looking for clubs that deliver some pretty decent performance at an affordable price. But year after year, Tour Edge has been gaining a bit of headway into the premium golf club market, especially with its technology-laden Exotics line of clubs. In fact, over the years Tour Edge Exotics clubs have developed an almost cult-like following. Tour Edge is like "the little engine that could" of the golf club industry – it keeps chugging away, and every year the clubs made by this up-and-coming company get better.
This particular driver was developed to help golfers hit their drives longer and straighter. Despite the low price of the club, the company didn't cut many corners, giving the Tour Edge Bazooka GeoMax2 driver a titanium face, crown and body.
Its high Moment of Inertia (MOI) increases the club head's stability on mishits and gives the driver a fair bit of forgiveness. (If you're not familiar with the term "Moment of Inertia," it's a concept that's extremely important in golf. Basically, Moment of Inertia is a way of describing how much the club head twists when it impacts the ball. A high MOI means less twisting of the club head, so the ball tends to fly straighter.) To maximize the club's forgiveness, Tour Edge took the MOI of the driver up to the maximum allowed by the USGA.
The club's high MOI and large sweet spot mean that your ball has a good chance of being long and straight no matter where you catch it. The Tour Edge Bazooka GeoMax 2 driver's distance is also partially due to the four weighted cavities placed back in the sole. These weighted cavities are strategically positioned to lower and deepen the head's center of gravity for higher launches and longer, more accurate drives. The sloped crown shape helps shift the center of gravity down and back even more.
Everything about the Tour Edge Bazooka GeoMax 2 driver has been designed to provide a good combination of accuracy and power – two characteristics which most mid- to high-handicap golfers will find helpful. I say "go for it" if you can't spend much but your skill level means that some extra distance and accuracy would help your game.
The Tour Edge Bazooka GeoMax 2 driver is available in four lofts: 9.0 degree (neutral); 10.5 degrees (1 degree closed); 12.0 degrees (1 degree closed); and 15.0 degrees (2 degrees closed). There are five stock graphite shaft options, all made by Grafalloy. Shaft weights range from 55 to 67 grams. The stock flex choices go from an A flex (senior) all the way up to X flex (extra-stiff).
The Bottom Line: Tour Edge came up with the "GeoMax" name by combining the terms "geo" (for the company's performance-enhancing geometric designs) and "max" (for maximum distance and accuracy). Kind of clever, I'd say. But what's really clever is how the Tour Edge Bazooka GeoMax 2 driver can help mid- to high-handicap players hit their drivers higher, longer and straighter. If you're a highly-skilled golfer you'd probably do better by looking elsewhere. But the combination of accuracy and distance the Tour Edge Bazooka GeoMax 2 driver offers makes it a pretty good option for beginning golfers who have limited budgets. Players who have trouble keeping their drives on target could benefit too. A little more accuracy and distance can transform your scores pretty dramatically.
From the Tour Edge Bazooka GeoMax 2 Driver to other golf club reviews.