Callaway RAZR X HL Irons Review – Another 2012 Gold Medal Winner
Well, here we go again, telling you that Callaway RAZR X HL irons have won a 2012 Golf Digest "Hot List" Gold Medal. It seems like just about every club Callaway has on the market right now is a Hot List Gold Medal winner.


Helping amateurs enjoy the game has always been one of Callaway Golf's core missions as a golf equipment company. Throughout its history, the company has fulfilled its mission admirably. Callaway has always sold terrific clubs that are capable of delivering terrific shots. And now, Callaway RAZR X HL irons are doing their part to carry on that worthy tradition.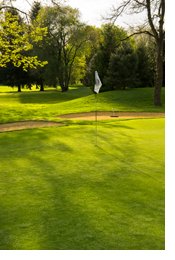 I can't find any official explanation of what the "HL" in the name of these irons actually signifies. I'm guessing it stands for "High Launch" or something similar, but I don't know for sure. What I do know is that "High Launch" would be appropriate because the design of these clubs promotes a high ball trajectory. So, in my own mind I think of the irons as a high-launching version of one of Callaway's most popular lines of clubs.

Like the other irons in the RAZR X line (RAZR X, RAZR X Tour, RAZR X Black, RAZR XF and so on), Callaway RAZR X HL irons use a unique, distinctive sole design to promote excellent turf interaction and create better accuracy and distance. Describing the sole is difficult, but it resembles a narrow sole with a beveled, wider extension. Although it might touch the grass at address and again at impact, the beveled extension doesn't actually contact the ground itself under normal circumstances.

The wider, beveled area shifts the club's center of gravity deep and low by distributing the back cavity's weight in a way that's different from irons with traditional soles. Callaway claims the unique sole design of the irons (and the other irons in the RAZR X series) delivers the precision and playability of a narrow-soled iron while also providing the distance and forgiveness of a wide-soled club. I've tried it, and it works. I felt like I was hitting narrow-soled "players irons" (which I prefer) but getting the benefits of a wider-soled, game-improvement iron.

The lower center of gravity means the sweet spot and most of the club's mass is located right behind the place most amateurs tend to strike the ball – low on the face. It's a powerful design, and it makes for higher, longer, more accurate shots even when you hit the ball on the club's heel or toe.

In addition to promoting longer carries, the high trajectory means that shots made with these irons tend to land softly on the greens. Even long iron shots come in high, and that limits their rollout. I hate it when I pull off a tough, long iron shot and land the green, only to have the ball keep rolling and run off the back because my ball came in too low and hot. These clubs should take care of that little problem.

The company also uses its time-tested, Tour-proven "VFT®" Technology ("Variable Face Thickness") in these irons. At its heart, this design technique enables the company's engineers to create a thinner, hotter face and a larger sweet spot for each individual club. It promotes maximum ball speed and improves ball trajectory no matter where on the face the club strikes the ball. Faster ball speeds and better trajectories typically translate into longer, more accurate hits. Like every other golfer on the planet, I want my irons to deliver that type of precision and distance.

You'll see a multi-material, aluminum/polyurethane medallion in the back cavity of all these irons. The company uses this medallion to improve feel and sound at impact. There are two stock shaft choices: the Callaway RAZR X HL iron graphite shaft in stiff, regular or light (senior) flex; or the True Temper M-10 XP "Uniflex" steel shaft. If you tend to hit long irons poorly, you can substitute one or two RAZR X HL hybrids into your set of irons at the point where your consistency starts falling off.

Callaway RAZR X HL irons: The Bottom Line

Callaway RAZR X HL irons don't give you distance at the expense of forgiveness – or vice versa. With these clubs, neither distance nor forgiveness is sacrificed. Instead, Callaway Golf set out to develop a set of irons that would provide uncompromised performance from a wide range of lies. We all need irons with distance, forgiveness and feel, and RAZR X HL irons deliver exactly that. That's the path to shorter putts and lower scores, so Callaway RAZR X HL irons are worth a try if you're looking for a new set of sticks.

From Callaway RAZR X HL Irons to other Callaway golf club reviews.