Callaway RAZR XF Irons Review: A Technologically Advanced Hybrid/Iron Set with Real Performance
If you ask me, this is getting ridiculous – Callaway RAZR XF irons won a Gold Medal on the Golf Digest 2012 "Hot List." You might think that's a good thing – and it is, of course. But it's also getting out of hand, because so many other Callaway clubs pulled off the same accomplishment. The list of clubs winning in 2012 doesn't just include the irons we're discussing here. It also includes the RAZR X HL irons, RAZR X Black irons, RAZR X Black woods, and RAZR X and RAZR X Tour hybrids. And the Callaway RAZR X Black driver won a 2012 Silver Medal. 
We review all those award-winning Callaway clubs on other pages of this site, but here we're just going to talk about the Callaway RAZR XF irons. They're getting a lot of buzz, and they deserve their own review.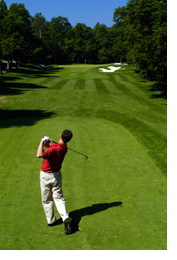 Callaway Golf is touting these clubs as an ultra-premium game-improvement combo hybrid/iron set. According to the company, their unique combination of design, technology, innovation and materials offers an unparalleled level of forgiveness while still delivering outstanding performance. Their price is ultra-premium ($1299 for steel shafts; $1399 for graphite), so I wanted to find out more.

The first thing I learned is that Golf Digest called these irons "a technological tour de force." Golf Digest doesn't give out praise as strong as that very often. That tells me these clubs are impressive. But are they worth their impressive price?

Here's some information you might find interesting.

Several things about these irons are unusual: despite the current economic downturn, their price is higher than many other sets on the market; they're being marketed as upscale, premium game-improvement irons (no, that's not an oxymoron); and most significantly, they may be the only forged game-improvement irons on the market. Yes, I said forged.

Prior to the launch of Callaway RAZR XF irons, forged clubs were the exclusive province of "players clubs" – you know, the irons played by professional and highly accomplished amateur golfers. Forged clubs are usually blades, but you do see the occasional forged cavity-back irons.

Game-improvement and super game-improvement irons, on the other hand, have always been made with the less expensive investment-casting method. Well, not anymore. As I said, Callaway RAZR XF irons are forged game-improvement irons. This is an exciting development for those of us who have a handicap that's higher than one or two. Actually, it's not just exciting, it's positively revolutionary. Callaway is pursuing an entirely new direction for game-improvement clubs. Some people won't be able to afford them (at least until the economy turns around), but I can see discerning yuppies, middle-aged executives and well-off retirees drooling in the wings.

So other than being forged, what makes Callaway RAZR XF irons so special? Well, for one thing they set a new standard for forgiveness and styling. The multi-material hybrids and irons in this set include all the technological innovations Callaway has to offer, and as a result they deliver superior looks, feel and playability. They just might be the ideal clubs for a mid- to high-handicap golfer who wants superb feel and a distinctive appearance in addition to more distance, accuracy and precision.

These are Callaway's most advanced irons ever. Think of them as being the "kitchen sink" when it comes to Callaway technology.

Their multi-material construction uses a forged 1025 Carbon Steel body for enhanced feel and feedback, while light, strong 455 Carpenter Steel is used to create the face. The weight saved by using VFT® ("Variable Face Thickness") Technology to thin the face and enlarge the sweet spot allows the placement of discretionary weight in the head's perimeter. The result is a hot-faced club that promotes increased distance, but it also has the highest Moment of Inertia ("MOI") of any iron that's ever been made by Callaway Golf. The high MOI means the club isn't just long – it's also incredibly accurate even on heel and toe shots. An aluminum/thermoplastic cavity medallion and a stealthy-looking black PVD finish complete the look of the Callaway RAZR XF irons.

The hybrids included in a set of Callaway RAZR XF irons are technologically advanced, too. A large club head with a "Zero Roll Design" and significant offset make the RAZR XF hybrids forgiving and capable of hitting higher, longer shots even when the ball is hit low on the face.

Callaway RAZR XF irons: The Bottom Line

The standard set includes two hybrids and six irons. Each club is made with the most sophisticated technology and finest materials available. These clubs are pricey, without a doubt. But there's also no doubt about their premium quality and superb performance. And, as forged game-improvement irons, they have no competitors. With its RAZR XF set, Callaway has made quite a statement about the potential of game-improvement clubs.
From Callaway RAZR XF Irons to other Callaway golf club reviews.