The Garmin Approach G6 GPS
For those of you looking for a new golf GPS, the Garmin Approach G6 GPS is the new kid on the block, launched in February 2012. It has some similarities to the company's first handheld golf GPS devices – the Approach G3 and G5 (both of which are reviewed separately on our site, along with the Garmin Approach S1 golf GPS watch) – but the G6 is Garmin's second-generation handheld model.
I own a Garmin Approach G3 myself, and my positive experiences with that model made me eager to review this new GPS as soon as possible. In addition to describing the features of the Garmin Approach G6 GPS, this review will highlight some of the similarities and differences between it and its predecessors. That way, if you already own a Garmin you can decide whether the new G6 justifies making an upgrade.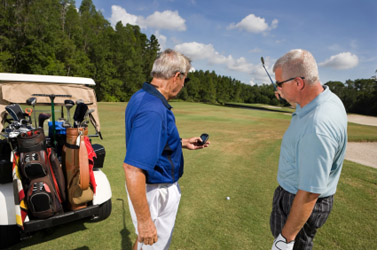 ---
Like its predecessors (the Approach G3 and G5), the Garmin Approach G6 GPS has a color touchscreen. It's just about the same size as the G3's display (2.6 inches diagonally) and Garmin says it's glove-friendly. I don't wear a glove while I'm playing so I couldn't test that aspect of the touchscreen. The overall unit is roughly the same size, too, although it's been redesigned and has a "sleeker" appearance than the G3 or G5. It fits nicely into your hand, and like the G3 and G5, it's water-resistant.
Garmin's two other handheld golf GPS units use two rechargeable AA batteries for power, but the G6 features an internal rechargeable battery pack similar to that of many other golf GPS devices. I have mixed feelings about this development. Although Garmin claims each charge will last up to 15 hours (that should be good for at least 3 rounds), I've always liked the way I could just pop in a fresh set of AAs if my charge ran out on the course. You can't do that with an internal battery.
Like the G3 and G5, the Garmin Approach G6 GPS includes pre-loaded courses – 26,500 of them. This handy feature saves time and aggravation because you don't need to set up the unit and then transfer the downloaded courses onto it by using a computer. Likewise, there's no course download fee for new additions or updates, and there's no annual "membership" fee – a feature which can save golfers a significant amount of money over time.
This GPS also features an advanced "digital scorecard" that, like the G3 and G5 models, allows you to keep score for as many as four golfers. A new wrinkle adds scoring options such as stroke play, match play, skins and Stableford points. If you like, you can hook the Garmin Approach G6 GPS up to your computer and print out your foursome's scores.
You'll also be able to determine the average distance you hit each of your clubs by using the Garmin Approach G6 GPS. Stat-tracking (fairways hit, shots missed left, shots missed right, greens in regulation, and putts per round, among others) is also available. You can check your stats during your round or print them out afterward by using your computer printer.
The course maps are now able to display "layup arcs" – accurate layup points for 100-, 150-, 200- and 250-yard shots. I appreciate the thought, but no one I know lays up to leave themselves a 250-yard shot. Laying up to 100 or 150 yards makes sense, but not 200 or 250 yards, so this is an "I could take it or leave it" feature for me.
Another new feature of the Garmin Approach G6 GPS is the ability to create, label and save custom target points on the course. If a particular location on your home course comes into play frequently, you'll be able to see the distance to this spot every time you play by using this innovative feature.
Two new "instant access" buttons (not present on the G3 or G5) now immediately display the Green View, Shot Measuring or Digital Scorecard screen. Manual pin positioning and touch targeting carry over from Garmin's earlier models.
The Bottom Line: At $299.99 MSRP, the Garmin Approach G6 GPS isn't the cheapest golf GPS out there, but it's also not the most expensive. It does, however, offer some of the most advanced golf GPS features available on the market. And, the price you pay for your unit is the only cost you'll have because there aren't any download or annual membership fees. Saving a few bucks each time you download a course map and avoiding the need to pay annual fees is a big benefit of this unit. Whether you're looking for your first golf GPS device or you already own one but you're considering an upgrade, the reasonable cost and numerous features offered by the Garmin Approach G6 GPS make it worthy of your consideration.
From the Garmin Approach G6 GPS to other golf GPS reviews.