An Overview of Nancy Lopez Golf Clubs for Women
Lady golfers shopping for clubs should probably consider Nancy Lopez golf clubs.  After all, for years Lopez was one of the world's premier female professional golfers.  And despite retiring from professional golf years ago, she has remained extremely involved in ladies golf.  In addition to designing several well-respected golf courses and having her own line of golf apparel, her golf clubs have made her the undisputed leader in golf equipment for women.
Nancy Lopez golf clubs are designed specifically for lady golfers.  In fact, the company is completely dedicated to women golfers and doesn't even make any men's clubs.  None whatsoever.  Finally, a golf equipment company that exists strictly for women!

These golf clubs have a singular goal:  to be the best women's golf equipment available so that lady golfers are able to score better and maximize their enjoyment while playing golf.  The emphasis is on innovation and quality, but most of all, these golf clubs are intended to help lady golfers have fun out on the course.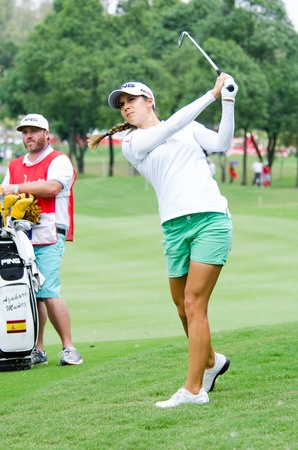 Currently, there are four distinct lines of these ladies golf clubs:  The TAE, the Torri 212, the Elite Plus, and the Ashley series.  Each series is designed for the specific needs of a different type of lady golfer.

For example, the clubs in the TAE series incorporate the latest game-improvement technology to promote longer carries and greater distance.  The 440-cc TAE driver has a forged titanium head and is available is 11, 14 and 16 degree lofts.  The head has a "Soft Triangle" shape to provide a greater Moment of Inertia (MOI), and weight has been moved to the rear to promote a higher ball trajectory.  The hyper-steel, "Soft Triangle" TAE fairway woods (3, 5, 7 and 9) are offset to straighten a slice and have a thin, resilient face to promote distance.  TAE hybrids (4, 5 and 6) can be purchased individually or as part of a "combo set" with Nancy Lopez TAE irons.  Once again, the TAE hybrids feature "Soft Triangle" faces to provide a high MOI.

An eight-piece combo set consisting of 4, 5, and 6 hybrids along with the 7, 8, 9, pitching wedge and sand wedge is available in the TAE series of Nancy Lopez golf clubs.  The irons in this set promote forgiveness by incorporating a deep, wide channel to shift the head's weight downward and rearward.  Their extra-wide sole lowers the club's center of gravity even more, to promote higher ball flights and longer carries.

Alternatively, lady golfers looking for even more game-improvement technology can choose the eight-piece TAE+ combo set.  Like the other TAE combo set, this one includes the 4 and 5 TAE hybrids, but it replaces the 6-hybrid with a traditional 6-iron.  Titanium face inserts on the 6-, 7- and 8-irons shift the head's weight downward to promote longer, higher ball flights with your longer irons.  The 9, pitching wedge and sand wedge in this set have soft stainless steel faces to promote enhanced feel with your scoring clubs.

The TAE line of Nancy Lopez golf clubs is just one example of the company's ladies golf clubs.  The company's other lines include the Torri 212 series, the Elite Plus and the Ashley line.  Complete sets of Nancy Lopez golf clubs are available, and in some cases they include a stylish golf bag.  Several models and styles of Nancy Lopez putters, including blades, mallets and mid-mallets are available in shaft lengths that are suitable for lady golfers.  You can also buy individual wedges in various lofts and a "chipper" if you want.
Nancy Lopez Golf Clubs: Bottom Line

I always strive not to let my gender influence my club-testing or the club review process in any way.  However, in this particular case I believe an exception to that strict policy is justified.  As a woman who takes her golf seriously, I find it extremely refreshing that a golf equipment manufacturing company has dedicated itself to serving the needs of lady golfers exclusively.

Nancy Lopez paved the way for an entire generation of professional women golfers.  And now, Nancy Lopez golf clubs are making the game easier and more enjoyable for lady golfers of all skill levels.  I don't use Nancy Lopez golf clubs myself, but I know several women who do.  I intend to borrow some of these clubs as soon as I can, and I'll be reviewing them here on this website.  Stay tuned.

From Nancy Lopez Golf Clubs to ladies golf club sets.