TaylorMade Burner Driver Review
Consider Trying a TaylorMade Burner Driver for Inexpensive Distance and Accuracy
TaylorMade is one of the world's leading golf club manufacturers, and during its history the company has created several drivers that bear the "Burner" designation. In fact, TaylorMade has used the Burner name for so long and with so many different clubs, it's hard to remember how and when it was first used. If memory serves me correctly, though, the first TaylorMade Burner driver came out in 1983. Of course, there have been multiple versions of the club since that first version, and each new model has made improvements over its predecessors.
In this review I'll give you my impressions of this driver that came out in 2007 along with my thoughts on the 2009 version. Both of these drivers are very popular - in fact, my husband uses the 2007 TaylorMade Burner driver (10.5 degree loft).
The 2007 TaylorMade Burner Driver
Driver heads are looking less and less traditional these days, and the 2007 model is no exception, with a somewhat "bullet-like" shape to lower and deepen its center of gravity (CG) and increase its Moment of Inertia (MOI). Oh well, at least it isn't square.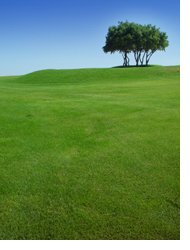 This driver doesn't have any fancy moveable weights and you can't adjust its face angle or anything else. It leaves those bells and whistles to more expensive drivers and simply gets the job done for mid- to high-handicap golfers with mid-range budgets. It does, however, use TaylorMade's "SuperFast Technology" to lighten the club's weight and increase swing speed. And, by shifting its CG low and further away from the club face, the 2007 driver helps golfers launch the ball higher. Its extremely high MOI makes it very forgiving on heel or toe hits.
My husband owns this club and I've hit it hundreds of times because we sometimes decide to trade drivers for a while. The stock 50-gram, 44.5" Fujikura RE*AX graphite shaft seems to match up with my 85-90 mph swing pretty well. Although I find it difficult to work the ball with this driver, it's easy for me to hit it straight and it gives me nice distance. It's a club I feel comfortable with and I know my husband loves it because he always makes me give it back not long after we swap our drivers. Overall, it's a great club for average golfers, and it's a less expensive option than many other drivers. It's hard to argue with long and straight at a pretty cheap price.
The 2009 TaylorMade Burner Driver
The 2009 model has also become a favorite with mid- to high-handicap golfers, providing several improvements over the previous model. It's available in 9.5, 10.5 and 12 degree lofts with a 49-gram, 46.25" Fujikura RE*AX graphite shaft. TaylorMade says its titanium club face is the largest in any TaylorMade driver produced as of 2009.
Designed to promote a faster swing speed, lower spin rate and higher launch angle, the club uses TaylorMade's "Dual Crown Technology" to lower its CG and "Inverted Cone Technology" to raise its MOI. I tried the 10.5 degree loft, and I was rewarded with great distance even though the club launched the ball higher than I'm used to. I also felt as though I was getting a bit more swing speed with this version of the TaylorMade Burner driver - probably due to the ultra-lightweight, longer-than-normal shaft. Most of my drives went down the middle or were a slight draw, so I'd consider the club both accurate and forgiving. It's easy to hit and it doesn't have any moveable weights or other adjustments to fiddle with.
The Bottom Line:
Both of these clubs - the 2007 and 2009 versions of the TaylorMade Burner driver - have a lot going for them, including TaylorMade's SuperFast Technology, which promotes distance gains by facilitating faster swing speeds. If you're looking for high-tech golf club technology but you don't want to have to adjust this and twist that on your driver before you start your round, consider taking a close look at one of these fine drivers. They'll both give you a high launch and a long, accurate drive. And because both are a few years old now, you should be able to pick one up fairly inexpensively. Some people may struggle a bit with the 2009 TaylorMade Burner driver because of its extra-long shaft, but once you get the hang of it (I did quite easily) it can really pay off.
From TaylorMade Burner Driver to other TaylorMade Burner clubs.