TaylorMade Burner Plus Irons Review
Released in 2008, the TaylorMade Burner Plus irons are popular because of their large sweet spot, accuracy, high ball flight, length, forgiveness that permits decent distance even on mishits, and high-quality construction. They're also an attractive set of irons. Appearance is more important than many players think, because a golfer who likes the way his or her clubs look will usually have more confidence in them than someone who's playing with clubs they think are ugly.
Their oversized, thin club face and thick topline inspire confidence and make the clubs easy to hit properly, and they have a fairly wide, beveled sole to improve the club head's interaction with the turf, whether you're in the fairway or in the rough. TaylorMade Burner Plus irons also include TaylorMade's "SuperFast Technology," which involves the use of lighter grips and lighter and slightly longer shafts to promote a faster swing speed for extra yards.
In addition to SuperFast Technology, these irons also include the company's "Inverted Cone Technology" and a high Coefficient of Restitution for additional length, vibration dampening to improve feel, a significant amount of offset to combat a slice, a high Moment of Inertia for increased forgiveness on mishits and to resist club head twisting in the rough, and perimeter weighting to make them easier to hit straight, high and long. They are targeted at mid- to high-handicap golfers with swing speeds between 65 and 100 mph or so.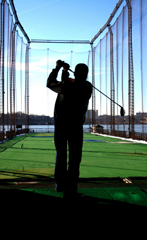 Even though the clubs launched the ball on a higher trajectory than I typically see with my own clubs, their length is impressive, probably because the lighter, longer shafts boosted my swing speed a bit above my normal 85-90 mph. More length is a good thing as long as the clubs also let you hit the ball accurately and you have a good understanding of how far you hit each of your irons so you don't over- or under-club yourself when you're out on the course. In light of the distance gains you might achieve with these irons, it might be a good idea to spend some time out on the range before using them in an actual game. Some range time will help you determine the average yardage you hit each of the clubs in the set.
I'd say the TaylorMade Burner Plus irons are "fairly" forgiving in addition to being long. Most of the time I wasn't severely punished on my mishits, either directionally or distance-wise. I do think there are irons that are more forgiving, though.
Although they're probably better suited to mid- to high-handicap players, the clubs do seem to offer at least some workability, and more accomplished players might be able to shape their shots. I was able to easily hit a draw on command, although I found that it was much harder to hit an intentional fade or slice. Players who are better than me might have an easier time bending the ball than I did.
I tested the standard men's set of TaylorMade Burner Plus irons, which consists of a 4-iron through an attack wedge. A "combo set" consisting of a 3- and 4-hybrid plus a 5-iron through pitching wedge is also available. The ladies' combo set includes a 4- and 5-hybrid and 6-iron through attack wedge. Men's clubs are available for both righties and lefties, but only right-handed women's clubs are sold. They can be purchased with either SuperFast 85-gram steel shafts or SuperFast RE*AX 60-gram graphite shafts. As always, I tested the TaylorMade Burner Plus irons that came with the graphite shafts.
The Bottom Line: All in all, the TaylorMade Burner Plus irons deliver distance above everything else, so if additional distance is what you're primarily seeking, these clubs might be worth considering. However, if you want clubs that will give you a significant amount of forgiveness in addition to extra distance, you might want to look at some different iron sets. Due to their limited workability and wider soles, the TaylorMade Burner Plus irons also might not be the best choice for golfers with handicaps below 10 or so.
From TaylorMade Burner Plus Irons Review to other TaylorMade reviews.