Taylormade Burner Rescue Review
TaylorMade burner rescue clubs might help your game.
"Rescue Clubs" is an appropriate name for hybrids because they can help you get out of trouble. A good hybrid can "rescue" you from gnarly rough, but it can also help you launch the ball high enough to carry that tree that's between you and the green.
In 2008, two slightly different versions of TaylorMade Burner Rescue clubs went on sale. The first, called the High Launch, was developed to help golfers with average swing speeds hit the ball high and long. A second version, called the Tour Launch, was developed to permit players with faster swings to work the ball and hit a lower, more penetrating ball flight.
These two versions of the Rescue clubs share several characteristics, although they also have their differences. Both types, for example, utilize TaylorMade's "Dual Crown Technology," "Ultra-Thin Wall Technology" and a somewhat triangular head shape to reduce spin, lighten the club face, and reposition the center of gravity (CG) lower and toward the rear of the club head. Both versions of the clubs also use the company's "SuperFast Technology" which promotes faster swing speeds - and more distance - by using lighter grips and lighter, slightly longer shafts.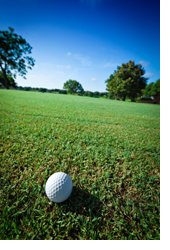 The High Launch version of the TaylorMade Burner Rescue clubs has a shallow club face and a draw bias to make it easier to hit and to reduce the average golfer's tendency to slice. Its CG is also lower and farther away from the club face than the Tour Launch version of the clubs.
With a CG closer to the club face than the High Launch version, the Tour Launch TaylorMade Burner Rescue clubs are intended to help lower-handicap golfers achieve a lower ball flight and intentionally draw, slice or fade the ball. The Tour Launch Rescue clubs also have a club face that's slightly taller, a larger toe area, and a slight fade bias to help prevent hooks.
I tried the 3- and 4-hybrids in the High Launch version of the clubs. As always, the clubs I tested had graphite shafts to ensure greater consistency in my evaluations.
At first, I didn't know what to expect distance-wise. But once I got used to them, I started hitting the 3-hybrid (19-degree loft) almost the same distance as I hit my own 5-wood. That makes sense, because the 3-hybrid only has one degree more loft than my 5-wood. The 4-hybrid (22-degree loft) goes a little longer than my current 4-iron, but with a higher ball flight. So distance-wise, I like these clubs.
Making good contact when the ball was in the rough was easier with the TaylorMade Burner Rescue clubs than with my current long irons, because the club heads weren't grabbed and twisted by the tall stuff. Although I did catch a couple of fliers, the high Moment of Inertia built into the clubs at least helped the flier balls go straight. I almost always made solid contact from lies in the fairway, and my shots off the tee with these hybrids went long and straight. These clubs really are easy to hit!
I did, however, discover that these clubs are not quite as forgiving as I would like. The loss-of-distance penalty on mishits was more than I would have expected from a hybrid club of this type. Shaping shots was also difficult. That might not matter so much to mid- and high-handicap golfers, but it would bother players with lower handicaps.
The High Launch version of the TaylorMade Burner Rescue clubs is available as a 2-hybrid (17-degree), 3-hybrid (19-degree), 4-hybrid (22-degree), 5-hybrid (25-degree) and 6-hybrid (28-degree). Except for the 2 and the 6 (which are only available right-handed), both left- and right-handed versions are available. Tour Launch clubs come in a T2 (18-degree), T3 (20-degree) and T4 (23-degree) and are available for both lefties and righties.
The Bottom Line: If you have problems hitting long irons, you might want to consider the TaylorMade Burner Rescue clubs - especially the High Launch version. I don't think these are the longest hybrids I've ever hit, but their length is respectable and they're easy to hit. They also launch the ball high, so pulling off a low shot when you need one might be a bit tricky. The loss of distance on mishits is somewhat troubling. But overall, the TaylorMade Burner Rescue clubs might help your game.
From Taylormade Burner Rescue to other TaylorMade reviews.