The 2007 TaylorMade Burner TP Review: Comparison to the "Standard" Version
(This TaylorMade Burner TP review was added on 26 MAY 2014)
The TaylorMade Burner TP driver is yet another entry in a long (and ever-growing) list of fine drivers that the company has produced over the years.  Introduced in 2007, it looks very similar to that year's "regular" Burner driver.  Don't let that fool you, though - the 2007 TaylorMade Burner TP has "tour specs" instead of the standard Burner's game-improvement features.  I'm pretty sure that the letters "TP" stand for "Tour Preferred."

That means that you'll need a fast swing (and a pretty low handicap to go with it) in order to make one of these drivers work the way it should.  My swing speed is average at best and my handicap is around 10, so I'm not the right golfer to evaluate the 2007 TaylorMade Burner TP driver properly.

We've posted my review of the standard 2007 TaylorMade Burner driver on another page of this site – feel free to take a look at your convenience.  It dawned on me that even though I'm not really able to properly do the TaylorMade Burner TP review, I could use this page to compare some of its specs with those of the standard 2007 Burner you can read about there.

So here's a quick synopsis of what makes the TP and regular versions of the 2007 TaylorMade Burner driver different despite their similar outward appearance: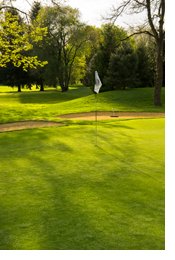 Club Face Angle:
The face of the standard Burner is 3 degrees closed in order to promote a draw.  Many golfers with average to high handicaps need this type of help to counteract their tendency to slice.  Professionals and elite amateurs don't, so the face of the TaylorMade Burner TP driver is 1 degree open to encourage a fade. 

Emphasis on Workability Instead of Forgiveness:
The 2007 TaylorMade Burner TP driver is meant to be played by low-handicap amateurs and professionals.  Typically, these players want a driver that's designed to emphasize workability instead of forgiveness.  Sure, now and then they'll miss-hit the ball, but they don't do it nearly as often as the rest of us.  As a result, they're not that concerned about the amount of forgiveness a club can provide.  In contrast, the standard Burner driver is designed to deliver the kind of forgiveness that most average and high-handicap golfers need.  Workability isn't one of the standard Burner's strong points, but most of us don't need much in that department anyway.

Ball Flight (Trajectory):
Likewise, high-level golfers don't have any problem launching the ball high.  Their concern, trajectory-wise, is finding a driver that encourages a lower, more penetrating ball flight.  That type of trajectory promotes longer shots, especially when you're hitting into a headwind.  The TaylorMade Burner TP driver's internal weighting scheme promotes the lower ball flights that professionals and skilled amateurs prefer.  In contrast, many of the rest of us don't hit the ball as high as we'd like.  That's why the standard version's internal weighting is designed to encourage a medium to high ball flight.

The Weight of the Clubs

Better golfers almost always have fast swing speeds.  They don't need any extra help in that department.  What they want is better control.  That's why the 2007 TaylorMade Burner TP is heavier than the standard version – its weight makes the club easier to control.  The overall weight of the "regular" Burner driver, on the other hand, is lighter.  The lighter weight is meant to promote a faster swing speed.

TaylorMade Burner TP Review: Bottom Line
I consider myself an average golfer (my handicap seems to stay around 10 no matter what I try).  Plus, my swing isn't fast.  Because I don't have the skills to give the TaylorMade Burner TP driver a true test, I didn't even try it.   It just wouldn't be fair to the driver for me to test it.  

Here's what I can tell you:  the standard 2007 Burner driver has a ton of things going for it, and I highly recommend it (please read my review – it's on another page of this site).  There isn't any reason to think that things would be different with the TaylorMade Burner TP driver – if you have the skills to use it. 

Except for the things I mentioned above, the TaylorMade Burner TP driver and the standard version are actually pretty similar.  So, if you hit the sweet spot consistently and your swing is faster than 100 mph or so, I'm betting that the TP driver would give you great results.  If your swing speed is more like mine (92-95 mph) or even slower, you'd probably be much better off with the standard version of the TaylorMade Burner driver.
From the TaylorMade Burner TP Review to other TaylorMade drivers.