The Titleist Lightweight Cart Bag:  An Objective Review
You're using a cart, so why would you want a Titleist Lightweight Cart Bag?  Why not get a bigger, heavier bag that gives you more storage?  Your cart's doing all the work, so how much your bag weighs doesn't matter, right? 
Well, as it turns out, your bag's weight matters more than you might think.  For example, you don't want to give yourself a hernia lifting your loaded bag in or out of your trunk, or while you're lifting it or out of the bag well of the cart.  "Okay," you say, "I understand now.  But will this Cart Bag help me avoid those problems but still do everything I need from my golf bag?"

Read on for our objective review of this Cart Bag.
---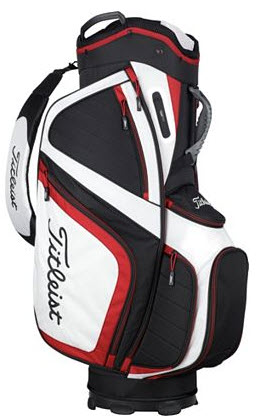 Let me start by saying that Titleist's reputation for excellence is unequalled.  For example, Titleist golf balls are among the best, and they're used by many avid amateurs as well as being the balls preferred by many top professionals.  Titleist clubs have the same reputation.  And, from everything I've seen, this bag is equally excellent.  Here are some of its features:

First, because its weight (or rather, its lack of it) is "advertised" by its very name, it's important to note that according to Titleist, the bag weighs only 7.3 pounds.  For comparison purposes, a Callaway Staff bag weighs a cool 13 pounds - almost twice as much as the Titleist Lightweight Cart Bag.  Made of high-quality nylon mesh materials, its light weight makes it easy to put in and lift out of a car trunk, place in and take out of a cart's bag well, and easy to use with a pull cart if you're walking.  Its grab handles and padded sling make handling the bag a snap.  So, this bag is light enough to help you avoid a hernia and it's easy enough to handle to be highly versatile.

It also features a reverse top-cuff design and the type of full-length, 14-way boxed club divider system that's becoming incredibly popular with golfers because of the superb way it separates and protects the shafts as well as the heads of your golf clubs.  A separate external putter tube is on the front of the bag for easy access.

Storage is fairly plentiful, although not overly abundant.  All eight zippered pockets are accessible while the bag is on a cart.  There are two full-sized apparel pockets and two sizeable zippered side accessory pockets (one of each on each side of the bag), a velour-lined valuables pocket, a coal-chute ball pocket and an additional ball pocket, and a large insulated beverage pocket, so the bag has your needs covered.

In addition to its light weight and storage options, the Titleist Lightweight Cart Bag is well-constructed, sturdy and durable.  It features a "Dry Grip" bottom and rubber feet to keep your grips dry, and the bottom has a grab handle to help you lift the bag.  Additional handles on the front and back also make loading and unloading easy.

Other features of the Titleist Lightweight Cart Bag include a zippered sleeve to stow the padded, velour-lined carry strap, a brushed nickel towel ring, an umbrella loop and rubber grommet on the bottom to keep your umbrella safely stowed but easily accessible, and a matching zippered rain hood.

The Titleist Lightweight Cart Bag is available in black, navy and multiple color combinations, including black, hunter green and silver; black, white and red; black, taupe and khaki; black, royal blue and charcoal; black, red and charcoal; and black, beeswax and white.  Naturally, they all feature the script Titleist name.

Titleist Lightweight Cart Bag: Bottom Line

The Titleist Lightweight Cart Bag is a high quality bag that isn't a lightweight in features.  It provides good club protection and its storage options are ample, with all of its pockets being accessible while the bag is on a cart.  At an MSRP of $205, its price isn't lightweight, but I've seen plenty of bags selling for more.  Some golf bags are lighter, some bags are bigger, and some have more storage options, but this one's a good combination of convenience, durability and versatility.  And this bag, unlike most, lets you proclaim your admiration for one of the world's premier golf equipment makers.

From Titleist Lightweight Cart Bag to other Titleist golf bag reviews.